This is an archived article and the information in the article may be outdated. Please look at the time stamp on the story to see when it was last updated.
A Tujunga man was arrested Wednesday after more than 1,000 ecstasy pills were found inside a puzzle box that was delivered near UC Riverside, authorities said.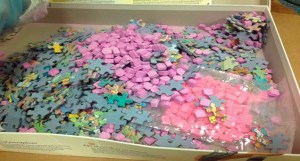 Police were contacted by the Department of Homeland Security about the intercepted puzzle, which contained 1,015 ecstasy pills, the Riverside Police Department stated in a news release.
Pictures of the puzzle showed it was a 1,000 piece Ravensburger puzzle featuring cake pops.
The puzzle was sent from the Netherlands and arrived through the postal system, according to the news release.
The narcotics were delivered to a residence in the 3000 block of Iowa Avenue near UC Riverside and a search warrant was served, the Police Department stated.
During the investigation of the home, additional ecstasy pills, Xanax pills and similar postal packaging were located inside the residence, according to the news release.
A total of 1,140 ecstasy pills and 90 Xanax pills worth about $23,250 were recovered in the search, according to the Police Department.
Sung Hee Jeong, 21, from Tujunga was identified as the suspect and booked on suspicion of possession of a controlled substance for sale.
Police believe the drugs were going to be sold to college students at UC Riverside, according to the news release.