This is an archived article and the information in the article may be outdated. Please look at the time stamp on the story to see when it was last updated.
After previously referring to reports of 100 undocumented immigrants being detained for deportation as "grossly exaggerated," U.S. Immigration and Customs officials on Friday confirmed the agency had arrested more than 160 individuals during targeted raids in Southern California over the previous five days.
The enforcement surge that began Monday was aimed at "at-large criminal aliens, illegal re-entrants, and immigration fugitives," ICE spokesperson Virginia Kice said in a statement. About 150 of those taken into custody had criminal histories, she said, while some of those without a criminal background had deportation orders or had previously been deported.
It is not clear whether immigrants were targeted for violent offenses or work-related crimes, such as providing false documentation for employment, as was the case involving an undocumented mother in Phoenix who was deported early Thursday.
ICE said "many" of those arrested during the five-day sweep had "felony convictions for serious or violent offenses, such as child sex crimes, weapons charges, and assault." About 95 percent of those detained were men.
Foreign nationals from a dozen countries were arrested across more than 55 Southern California communities across five counties, federal officials said, but did not disclose those countries or communities. On Thursday, immigration advocates said home raids had taken place in Santa Paula, Oxnard, Van Nuys, Downey and San Bernardino.
The actions are the first concerted effort by ICE under the Trump administration to arrest targeted undocumented immigrants for deportation proceedings, but agents maintained the operation was not related to the president's executive order regarding immigration and public safety.
Politicians and advocacy groups maintained the agency conducted the operation with a lack of transparency that undermined its ability to serve public interest.
"I find it particularly galling that after misleading the media yesterday, ICE would today lecture the public about the dangers of 'false reporting,' " California Senate President Pro Tempore Kevin de León wrote in a statement. "If ICE is looking for the culprit to yesterday's panic they need only look in the mirror."
U.S. Representative Nanette Diaz Barragán, whose district is centered in South L.A., wrote a letter asking ICE Acting Director Thomas Homan to release the names of the individuals taken into custody and information on about their criminal records.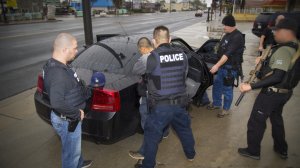 Barragán emphasized that similar raids under the previous administration were accompanied by executive orders that provided "clear and specific guidance" to those executing them, while Trump's was "poorly worded and overreaching." While the Obama administration implemented a clear policy of prioritizing deportation of high-level criminals, an executive order signed by Trump in his first week set up enforcement priorities that could include virtually any undocumented immigrant living in the U.S.
L.A. Mayor Eric Garcetti said he spoke with the deputy director of ICE's field office in Los Angeles Friday to demand greater transparency about the agency's operations in the city.
Los Angeles police were not involved in the enforcement operation as it is "not responsible for the enforcement of immigration status violations which are civil in nature," according to Josh Rubenstein, a public information officer with the department.
"In addition, the LAPD is committed to constitutional policing principles which require reverence for the law and adherence to the constitutional limitations on detaining individuals beyond what is required under the law," Rubenstein said.
Many activists rebuffed federal officials' claims the sweep was "routine" and called on agents to release information regarding the crimes those arrested were convicted of.
"ICE has not been forthright with the community, attorneys, and organizations about their actions this week. They have only offered half truths thus far," Angelica Salas, executive director for the Coalition for Humane Immigrant Rights in Los Angeles, said in a statement. " Forgive us, then, if we must take their word with a grain of salt."
Salas also characterized the enforcement as an attempt to criminalize and dehumanize immigrants under President Donald Trump's administration.
However, the actions were planned before Trump took office, a top ICE official told the Los Angeles Times.
An ICE official confirmed Atlanta had conducted a similar surge this week, and roughly 200 arrests were made in Georgia, North Carolina and South Carolina in a similar routine enforcement action. Texas Democratic Rep. Joaquin Castro said in a statement that he had confirmed with ICE's San Antonio field office that similar actions were conducted across Texas, calling the action "Operation Cross Check." He said he would be following up to make sure the actions were targeting the worst offenders.
Full numbers for the actions across the country will be made available Monday, the agency said.
On Thursday, protests sprang up at the deportation of Guadalupe Garcia de Rayos, a 35-year-old mother of two, who had checked in with ICE at an office in Phoenix the day before, as she had regularly since a 2008 conviction of using a fake Social Security number. Protesters also took to the streets Thursday in Los Angeles in response to news of the raids, shutting down part of Alvarado Street near the Metropolitan Detention Center for nearly two hours.
The last time more than 100 people were detained in ICE raids in Southern California was last July, according to a report from the L.A. Times. All 112 immigrants arrested had criminal convictions and the sweep took four days across L.A., Orange, Riverside, San Bernardino, Santa Barbara and Ventura counties, the newspaper said.
In January of last year, the federal government conducted raids to find and deport Central American families who came to the U.S. fleeing violence in their own countries and stayed illegally. A total of 121 people were taken into custody, mainly in Georgia, North Carolina and Texas.
There are an estimated 1 million immigrations without proper documentation living in Los Angeles and Orange counties, according to a report released Thursday by the Pew Research Center.
The ACLU circulated English and Spanish fliers on social media instructing people in danger of deportation what to do if ICE agents come to their doors. Among the tips: "If they ask to enter, ask if they have a warrant signed by a judge and if so, ask to see it (through a window or slipped under the door)." The Immigrant Legal Resource Center has also distributed "red cards" summarizing the rights and protections the Constitution affords to all people in the United States regardless of immigration status.
CNN Wire contributed to this report.