This is an archived article and the information in the article may be outdated. Please look at the time stamp on the story to see when it was last updated.
More than $300,000 worth of jewelry was taken during a burglary at the Tarzana home of former Los Angeles Lakers player and New York Knicks head coach Derek Fisher, police said Tuesday.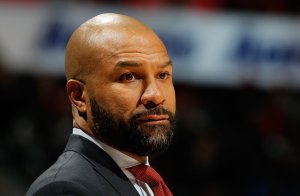 The burglary occurred Monday between 7:30 and 10:30 a.m. in the 5800 block of Shirley Avenue, Los Angeles Police Department Officer Irma Mota said.
Investigators determined the burglars got away with more than $300,000 worth of jewelry, Mota said. TMZ reported the stolen jewelry included five championship rings Fisher won with the Lakers.
Neither Fisher, nor anyone else was home at the time of the burglary, Mota said.
Fisher played in the National Basketball Association for 18 years, spending the majority of his career with the Lakers.
He was also head coach of the New York Knicks from 2014 to 2016, compiling 40 wins and 96 losses, according to ESPN.
No description of the burglar or burglars was given.
Anyone with information was asked to call the Police Department at 213-486-6946.
KTLA's Jennifer Thang contributed to this report.