This is an archived article and the information in the article may be outdated. Please look at the time stamp on the story to see when it was last updated.
The basketball court at UCLA's Pauley Pavilion was teeming with young hackers this weekend as more than 4,000 students descended on the school for the second annual LA Hacks event.
The 36-hour hackathon drew developers from about 300 colleges including Stanford, UC Berkeley, USC, UC Davis, Harvard, MIT and Carnegie Mellon, and was touted by organizers as the largest hackathon in the nation.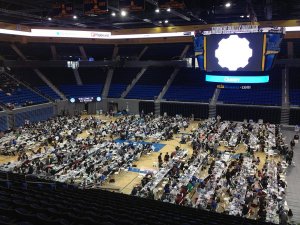 The event kicked off Friday night with a "mystery keynote" — Snapchat co-founder and Chief Executive Evan Spiegel. During his address, Spiegel shared some words of wisdom on finding success.
"I was fortunate enough to have my palm read by a wise old man in a Hong Kong temple. In addition to learning that I will be married and have a son before I am 30, he also gave me the three keys to success," Spiegel said. "They are as follows: 1. Hard work. 2. Ability. 3. Human relationships."
Click here to read the full story on LATimes.com.