This is an archived article and the information in the article may be outdated. Please look at the time stamp on the story to see when it was last updated.
More than 50 cats were seized from a Pasadena home on Tuesday after they were found to be living in "unsanitary conditions," officials said.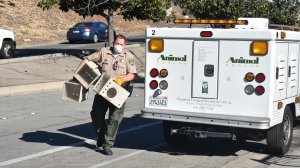 Animal control officers had been called out to a home after receiving an anonymous tip that numerous cats were living in a residence in the 1800 block from Corson Street, according to a statement from the Pasadena Humane Society and SPCA.
When they arrived, the officers discovered numerous cats living in filthy conditions.
"When we got to the home we did find a lot of animals living in pretty squalor conditions, and a home that was in really bad shape," said Julie Bank of the Pasadena Humane Society and SPCA.
The agency began the process of removing the pets from the house, and the owner surrendered the cats on her own volition, according to the statement.
More than 30 felines were initially discovered in the home, but as the day progressed, the total number of cats rescued increased to over 50.
"At this point we're looking at 51 animals that we've already rescued, but believe more animals are on scene," Bank said.
The woman who surrendered the felines spoke with KTLA Tuesday night, saying more cats kept on appearing at her house.
"I can't move around now, so I can't care for the cats, you know, like I should," said the woman, who asked not to be identified. "I hope they find good homes for them."
All the animals were taken to a shelter and are expected to be examined on Wednesday.
The Pasadena Humane Society is donations to help fund their care. More information can be found here.