This is an archived article and the information in the article may be outdated. Please look at the time stamp on the story to see when it was last updated.
More than 50,000 workers across the University of California are set to strike this week, causing potential disruptions to surgery schedules, food preparation and campus maintenance.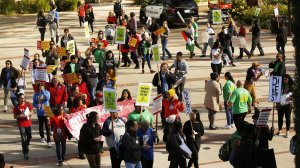 The system's 10 campuses and five medical centers are to remain open, with classes scheduled as planned.
UC's largest employee union, the American Federation of State, County and Municipal Employees Local 3299, plans to begin a three-day strike Monday involving 25,000 workers, including custodians, gardeners, cooks, truck drivers, lab technicians and nurse aides.
The union and university reached a bargaining impasse last year, and subsequent mediation efforts have failed to produce an agreement over wage increases, healthcare premiums and retirement terms.
Read the full story on LATimes.com.