This is an archived article and the information in the article may be outdated. Please look at the time stamp on the story to see when it was last updated.
A reckoning on public preparedness long in the making is underway in California after a year that saw unprecedented death, destruction and loss from disasters set off by extreme weather.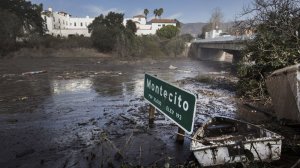 Though California has long experienced natural disasters tied to weather, the last year recorded a staggering human toll — more than 40 dead in wine country fires and more than 20 in Santa Barbara County mudslides.
The disasters revealed gaping holes in the state's county-controlled warning systems — a mix of services from multiple vendors, subscriber programs with low participation rates, outdated landline lists, and a federal cellphone alert system so imprecise some emergency managers are afraid to use it. Public warnings failed to reach most of those in harm's way, or understated the risk.
California emergency managers have released a critical review faulting Sonoma County emergency managers for failing to use all means possible to warn residents in October's deadly fire siege. Evacuation orders went to only a fraction of the residents in limited areas, and managers quickly lost track of the fast-moving blazes, leaving entire communities in the dark about their danger.
Read the full story on LATimes.com.