This is an archived article and the information in the article may be outdated. Please look at the time stamp on the story to see when it was last updated.
Coroner's officials on Saturday released the identity of a 49-year-old Moreno Valley woman who was struck and killed by a hit-and-run driver on the 57 Freeway in Diamond Bar on Thursday.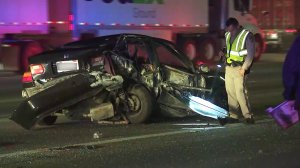 Naronica Owens died at the scene of the crash, which took place about 12:20 a.m. on the northbound 57 Freeway at the 60 Freeway, according to Los Angeles County Department of Medical Examiner-Coroner's records.
She was driving a 1992 Honda Civic that had stopped in the fast lane for an unknown reason, California Highway Patrol Officer Joel Pena said in a written statement. The stopped car was rear-ended by a 2017 Toyota Prius being driven by a 27-year-old Ontario man.
Owens got out of her car following the initial collision and was struck by a third vehicle, which fled the scene, the officer said. It was described as a white, 2011-model or newer Chevrolet Cruze.
The hit-and-run vehicle was last seen heading east on the 60 Freeway, according to the CHP.
Investigators have asked the public's help in finding the vehicle and driver. Anyone with information is urged to contact the CHP's Baldwin Park-area office at 626-338-1164.