This is an archived article and the information in the article may be outdated. Please look at the time stamp on the story to see when it was last updated.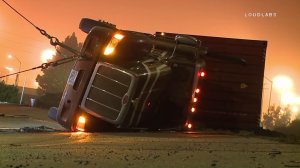 Lingering showers brought slick roads and dangerous driving conditions to Southern California Wednesday morning.
The wet weather was expected to taper off by afternoon, with most areas receiving less than .30 inches of rain, according to the National Weather Service.
The overnight showers left roads slick around the Southland however.
In San Pedro, a big rig overturned on the Ferry Street off-ramp to State Route 47 just after 1 a.m.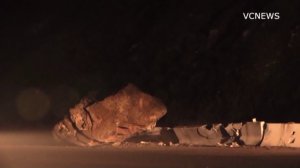 The crash prompted officials to issue a SigAlert for an hourslong closure of the off-ramp, according to the California Highway Patrol's traffic incident log.
The big rig was cleared and the off-ramp was reopened before 5 a.m., the CHP stated in a tweet.
In Ventura County, a large boulder tumbled onto the Pacific Coast Highway near Point Magu.
The northbound lanes had to be closed while crews worked to clear the roadway.
By Wednesday afternoon, forecasters are calling for dry, but humid conditions.
Another chance for rain is expected to arrive Thursday night into Friday, according to the Weather Service.
SIGALERT CANCELLATION: FERRY ST. OFF RAMP FROM NB SR-47, ALL LANES ARE OPEN

— CHP PIO - LA County (@CHPsouthern) February 8, 2017