This is an archived article and the information in the article may be outdated. Please look at the time stamp on the story to see when it was last updated.
Four months after a botched computer upgrade delayed unemployment benefits for tens of thousands of Californians, jobless workers are still finding it nearly impossible to reach state employees for help.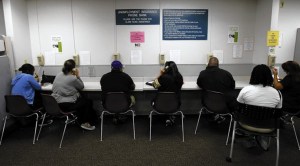 On any given day in recent months, as many as 90% of callers to the Employment Development Department seeking information about missed payments or unprocessed claims failed to reach a live worker, according to agency phone records obtained by The Times.
Callers who don't get through to staff are routed to a recorded voice directing them to seek answers on the EDD website or get help through an automated self-service phone number — options that many unemployed workers have already tried in vain.
Click here to read more at latimes.com.