This is an archived article and the information in the article may be outdated. Please look at the time stamp on the story to see when it was last updated.
A mother who was arrested after her newborn girl was found "buried alive" along a bike path in Compton was identified, charged and pleaded not guilty on Monday.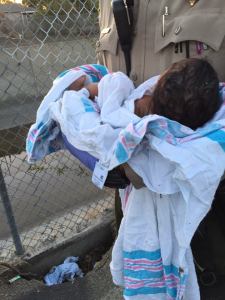 Porche Laronda Washington, 33, was identified as the mother taken into custody in the city of Compton on Thursday, Los Angeles County Sheriff's Department stated in a news release.
She was arrested on suspicion of attempted murder and child endangerment and booked into jail Friday, according to the release and inmate records.
She hid her pregnancy, was under stress, and was unaware of the state's Safely Surrendered Baby Law, which in L.A. County would have allowed her to drop her child at any hospital or fire station within the first 72 hours after birth, no questions asked, sheriff's officials said at a news conference Monday.
"She did not want to deliver the baby at first. She was afraid," sheriff's Sgt. Richard Ruiz said.
Washington was charged Monday with attempted murder and child abuse, the county District Attorney's Office said.
She entered a not guilty plea in a Compton courtroom where family members were present. News cameras were not allowed.
A booking photo was not being released "due to the ongoing nature of the case," Monday's news release said.
Washington's arrest came nearly a week after the infant was discovered buried beneath a pile of debris in the area of West 136 Street and North Slater Avenue, sheriff's officials said.
Two women were taking a walk on the bike path around 4 p.m. on Nov. 27 when they heard the baby's "muffled" cries, Sheriff Jim McDonnell said three days after the newborn was found.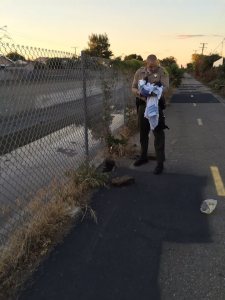 Two deputies responded to the scene after the women called 911. After determining the sound was coming from a 2-foot-wide hole in the path's pavement, they removed some vegetation and two large pieces of asphalt, and discovered the baby.
"She was wrapped in what appears to be a hospital blanket, and her face was covered with loose dirt," McDonnell said.
She likely would not have survived the cold night had she not been discovered that day, according to medical personnel.
The girl appeared to be 24 to 36 hours old at the time, sheriff's officials initially said.
Detectives from the department's Special Victims Bureau determined that Washington was admitted into an unnamed hospital on Nov. 23 and was released with the baby on Nov. 26, which was Thanksgiving Day.
The baby remained in a hospital under medical care, but was reported to be in good condition. Once released from the hospital, the infant will be placed by the Department of Children and Family Services.
Washington was being held at Century Regional Detention Facility in Lynwood. She was identified through tips from the public, the DA's office said.
She was due back in court Jan. 7, sheriff's Cmdr. Keith Swensson said.
Washington, whose bail was set at $1 million, faces up to life in state prison if convicted as charged.