This is an archived article and the information in the article may be outdated. Please look at the time stamp on the story to see when it was last updated.
An Arizona mother accused of fatally poisoning her two children repeatedly asked a judge for the death penalty at an Orange County court hearing Tuesday.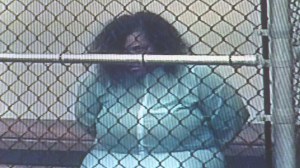 Marilyn Kay Edge, arrested Sept. 14 after the bodies of her children were found in a Santa Ana hotel room, appeared by video from the Central Jail in Samta Ana. She was charged Monday with two felony counts of special circumstances murder.
Appearing behind bars and clad in a blue jail jumpsuit, Edge was asked about setting an arraignment date.
"Only if you promise me the death penalty," she said to the judge twice.
On prompting from her attorney, she acceded to the judge's question.
Edge's arraignment was postponed to Oct. 25.
Outside the courtroom, the prosecutor said death penalty references would be "assessed at the appropriate time."
"The only death penalty she's been able to achieve successfully has been that of her children," said Senior Deputy District Attorney Sonia Balleste.
Her attorney later obtained Edge's consent to confer with jail medical and psychiatric staff about Edge's condition.
Edge, 42, was taken into custody after attempting to ram her car into an electrical box outside a Home Depot store in Costa Mesa, police said.
When police arrived at the scene, Edge refused to exit her car. When officers tried to extricate her, "she was attempting to strangle herself with something around her neck," a Santa Ana police spokesman said.
Edge told authorities that her two dead children – identified in court documents as 10-year-old Faith and 13-year-old Jaelen – were at the Hampton Inn & Suites in nearby Santa Ana, police said.
Officers rushed to the hotel, where they found the children's bodies in a room on the third floor.
The children's father, Mark Edge, of Marietta, Ga., had full custody of the children, authorities said.  Marilyn Edge had been expected to return the children to Georgia over the weekend but never arrived.