This is an archived article and the information in the article may be outdated. Please look at the time stamp on the story to see when it was last updated.
A 23-year-old mother accused of stabbing her toddler son during a domestic dispute in Cudahy did not intend to harm the child, her attorney said after his client appeared in court Thursday.
Michelle Betancourt was arrested Monday, several hours after deputies found her 3-year-old son critically wounded with stab wounds to his upper torso in the 3800 block of Walnut Street (map).
She was due to be arraigned in the Metropolitan Branch of Los Angeles Superior Court Thursday but a judge agreed to her attorney's request to have the hearing postponed to June 23.
Betancourt allegedly stabbed her son during a domestic dispute involving the boy's father, a news release from the Los Angeles County District Attorney's Office stated.
At the time of her arrest, a Los Angeles County Sheriff's Department lieutenant said the stabbing was intentional, but Betancourt's attorney said Thursday there was no intent.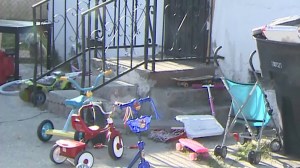 The family had lived at the home for about a year and had a history of domestic violence, neighbors said.
Betancourt was charged with two felony counts of assault with a deadly weapon, a less serious charge than attempted murder, which she was originally held on.
One count was for Betancourt's son and the other was for the boy's father, prosecutor Efrain Matthew Aceves said. She had attacked her boyfriend as well as her son, according to Aceves.
Betancourt's attorney, Bruce Karey, said the boyfriend, identified in the criminal complaint as Steve Garcia, was not injured.
The complaint against Betancourt includes a special allegation that she personally inflicted great bodily injury during the commission of a crime.
The judge issued a protective order requiring Betancourt to stay 100 yards away from the boyfriend and the child, prompting the defendant to tear up in court.
Karey said he would like to have his client, whom he described as distraught and upset, evaluated by a psychiatric specialist.
"This is part of a family tragedy. … There's a lot of things that are going on," Karey said outside court. "There was no intent to harm the child at all."
Bail was set at $90,000, the amount called for under the bail schedule, Aceves said.
If convicted as charged, Betancourt faces a possible maximum sentence of 11 years in prison, according to the DA's office.
The child remained in "critical care," Aceves said. Karey described him as "improving."