This is an archived article and the information in the article may be outdated. Please look at the time stamp on the story to see when it was last updated.
A woman was arrested Sunday after she allegedly left two babies inside an SUV for at least a half hour while she apparently shopped at an Ontario Walmart, officials announced Tuesday.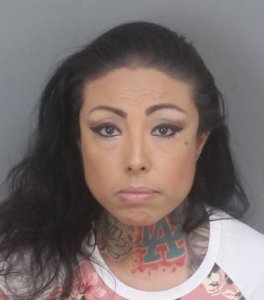 Crystal Gonzales, a 34-year-old resident of Fontana, faces a child endangerment charge in connection with the incident, according to Ontario police and inmate records.
About 7:45 p.m. Sunday, a security guard at a Walmart along the 1300 block of Mountain Avenue noticed people gathering around a GMC in the parking lot.
The security guard called police when she noticed two young children inside the vehicle "in distress due to the high temperatures," Ontario Police Detective Melissa Ramirez said in an email.
A witness who gave his name as Curtis Owens recorded video on his cellphone after he noticed the babies in distress. He said he tried to pull them out himself, but the car was locked.
"The infant was definitely sweaty," Owens told KTLA. "She had perspiration across her forehead."
Ontario police and firefighters responded and removed both children, a 1-year-old and a 9-month-old, from the SUV. The rescue was captured on cellphone video.
Ramirez said the SUV was off and the windows were only slightly cracked. According to the detective, Gonzales' excuse for leaving the children unattended was "to the effect of they were sleeping and she didn't want fussy children inside of the store."
"But when you think of that," Ramirez continued, "would you rather have your child fussy inside the store, or start planning their funeral because you decided to leave the child inside the car without AC while you went shopping for whatever?"
The babies were sweaty, but otherwise OK after being evaluated at the scene, police said. Owens told KTLA they were both girls.
Gonazles was described by police as the legal guardian of both babies at the time, and may also be the mother of at least one of the children.
Children and Family Services officials responded to the scene and took both children into their care, Ramirez said.
Carla Del Cid, who lives in Sacramento and identified herself as the babies' aunt, said family members are in the process of flying to Los Angeles to fight for custody of the children.
"I wanna have justice for these children," she told KTLA. "I'll take them any time — they're innocent — and I'll do anything to protect them."
Authorities believe Gonzales was in the store for "at least" a half hour. She was arrested after she exited the store.
She was released from custody after posting $100,000 bail, inmate records show.