This is an archived article and the information in the article may be outdated. Please look at the time stamp on the story to see when it was last updated.
An Apple Valley woman and her sister have been booked on suspicion of murder as the search for her missing 6-year-old son continues, officials announced Saturday. Duke Flores' mother, 29-year-old Jackee Racquel Contreras, and her twin, Jennifer Rachel Contreras, were arrested in connection with the boy's disappearance, according to the
San Bernardino County Sheriff-Coroner Department
.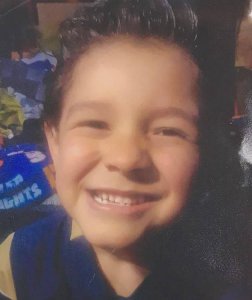 Apple Valley police responded to a home in the 22000 block of Cherokee Avenue on Thursday when a family member requested a welfare check on Duke, the agency said. The mother told officers Duke had not been seen for over a week, officials said. Authorities immediately searched the area and took Jackee Contreras into custody for failing to report him missing earlier, the Sheriff's Department said. The search and interviews with family members continued into the next day. On Saturday, after speaking with detectives, Jackee Flores was booked on suspicion of murder, authorities said. Officers on Saturday also arrested her twin sister, Jennifer, and booked her on suspicion of murder. Investigators, however, have not provided any details about what led them to believe the victim was killed. Jackee Contreras was transported from the High Desert Detention Center in Adelanto to the West Valley Detention Center in Rancho Cucamonga, where's she's being held without bail. Her sibling is in custody at the Adelanto facility, also without bail. Before the announcement of the possible murder charges against the siblings, family members and friends gathered for a vigil on Friday night. Duke's grandmother, Lydia Gutierrez, told KTLA she hadn't seen her grandson in 10 days. Duke's godfather, Juan Contreras, said he didn't believe Jackee Contreras would harm her son. The boy, who has autism, has wandered away in the past, his family said. "That's her pride and joy," Juan Contreras said. Another one of Duke's aunts, Leah Contreras, pleaded for the public's assistance. "Please, we just need help finding him," she said. Anyone with information can contact Detective Narcie Sousa at 909-387-3589 or Sheriff's dispatch at 909-387-8313. Those who wish to remain anonymous can contact WeTip at 800-78-CRIME or wetip.com.
Editor's note: The San Bernardino County Sheriff-Coroner Department previously provided an incorrect last name for the boy's mother. This post has been updated.