This is an archived article and the information in the article may be outdated. Please look at the time stamp on the story to see when it was last updated.
A third member of a Long Beach family who was struck by a suspected DUI driver on Halloween night has died, police confirmed Monday morning.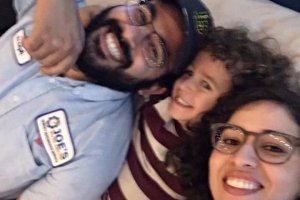 The victim, identified by police as Raihan Awaida, died Sunday at 9:03 p.m., the Long Beach City Police Department stated in a news release. The wife and mother was earlier identified as Raihan Dakhil in a GoFundMe post.
Awaida was walking on a sidewalk on Country Club Drive with her husband and 3-year-old son when the group was struck by a 2002 Toyota Sequoia near Los Cerritos Park.
All three family members were hospitalized in critical condition following the crash.
Joseph Awaida, 30, died from his injuries the following morning, police said. The couple's child, identified on the GoFundMe page as Omar, succumbed to his injuries on Saturday.
Police say the family was walking home from trick-or-treating when 22-year-old Carlo Navarro allegedly plowed into them.
Navarro was arrested on suspicion of DUI and gross vehicular manslaughter but was released after posting bail, which records show had been set at $100,000. No court date has been announced and it was unclear if charges would be filed.
Thousands gathered to pray for the family at a funeral at the Islamic Society of Orange County Monday evening.
The young mother's brother, Mohammed Dakhil, described his sister as his "ride or die" who was always there for him.
"It feels like I'm in a never-ending nightmare," Dakhil said.
The young man smiled as he recalled how his 3-year-old nephew hugged everyone he met. "He was such a sweet little boy," the uncle said.
Dakhil described Joseph Awaida as someone who was always compassionate, sympathetic and easy to talk to.
A second brother of Raihan's who asked to be identified only as Dakhil described the family the "most grateful" and "selfless human beings on the planet." He said he had always looked up to his older sister, who'd just received her master's in social work in May.
"She raised me, and she's always been the one to call whenever I had a problem," he told KTLA. "Whenever I had any doubts about anything, she was always there."
Monday was the first of three nights the family will be receiving condolences, with events set for Tuesday at West Coast Islamic Society in Anaheim and Wednesday at the Long Beach Islamic Center. Mourners are invited to visit between 6 p.m. and 9 p.m.
On Thursday, the city of Long Beach is hosting a candlelight vigil set for 6 p.m. at Los Cerritos Park on Del Mar Avenue.
GoFundMe page and a LaunchGood fundraising pages were created to help pay for the funeral services.
KTLA's Nouran Salahieh and Erika Martin contributed to this report.