This is an archived article and the information in the article may be outdated. Please look at the time stamp on the story to see when it was last updated.
A mother-daughter team who help some of the most vulnerable animals in Riverside County — those owned by the homeless — recently passed a milestone: more than 150 pets assisted.
The nonprofit organization, Taking It to the Streets With Lori and Shira, has been helping homeless owners get their pets vaccinated, licensed and fixed since 2012, according to Animal Solutions Konnection Foundation, the charitable arm of Riverside County Animal Services.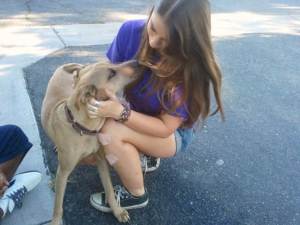 Run by Lori Rich and her daughter Shira, the group goes to a different part of town every day and distributes pet food, leashes, collars, toys and hygiene products to homeless pets and their owners.
"They're very happy when we show up, and dogs come running for treats and toys and stuff," said Shira Rich. "It's really great to see the impact that we're making."
The animals get taken in to be spayed or neutered, vaccinated, dewormed and licensed, Lori Rich said. They also get treated for fleas and ticks and generally cleaned up.
Most of the pets are dogs, but some homeless animal owners do have cats, Lori Rich said.
She used to rescue pets from local shelters but she found she felt she could never save enough animals, so she turned to a different tack that allows her to focus on pet overpopulation directly.
The pair has faced criticism for the work because some in the rescue community believe homeless people cannot take adequate care of pets, she said. Her critics call the work "bad rescue."
For Denise Helton, who was at a Rubidoux homeless encampment visited by the Riches on Friday, the work to help her pets has been very much appreciated.
"They're all I have," Helton said. "They're my life."
"Words can't describe what kind of person Lori is," Helton said. "She's a friend, she's a really good person."
The veterinary services branch of Riverside County Animal Services' recently donated $500 to the group, as did the ASK Foundation.
"We are there for a population of pets belonging to people who often seem invisible," stated a post on the group's Facebook page Friday.
"In a perfect world every pet would live in a loving home or in a safe and loving situations, but nothing is perfect," the post continued. "What we do doesn't make everything all better. It does make improvements and may prevent certain things from getting worse."
Information on how to donate to the organization is on the group's website.