This is an archived article and the information in the article may be outdated. Please look at the time stamp on the story to see when it was last updated.
A mother was killed along with one of her two young children on Thanksgiving when their car collided with a black bear in rural Northern California, the California Highway Patrol said.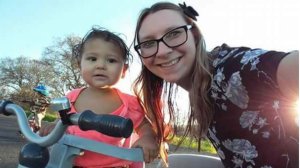 Sarah Rae Rohde, 27, of Copperopolis was going between 55 and 60 mph westbound on State Route 4 in Vallecito about 6 p.m. Thursday when a black bear walked into the two-lane road in front of her car, the CHP said. Rohde's 19-month old daughter Ariana Harris and 4-year-old son Julian Harris were both in the vehicle.
The force of the collision launched the bear through the front windshield and caused a "major intrusion into the passenger compartment of the vehicle," the CHP said in a news release. Rohde and her daughter were killed.
"It just seems like a freak accident, I don't know how to reconcile that in my head," Rohde's fiancé, Dajon Harris, told KTXL. "I don't know if I'll ever be the same."
Read the full story on LATimes.com.