This is an archived article and the information in the article may be outdated. Please look at the time stamp on the story to see when it was last updated.
A mother and daughter, as well as a teen, have been arrested in connection with stealing nearly $15,000 worth of merchandise from Victoria's Secret stores in Oxnard and Thousand Oaks and were possibly involved in Bay Area thefts as well, officials announced Tuesday.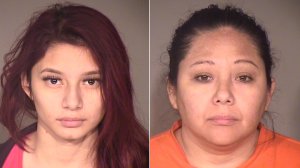 Ventura County Sheriff's Department officials said that the stores had been hit five times in the last five months and all of the incidents were captured on surveillance video. In the incidents, three people filled a baby stroller with the stolen goods, officials said. Once the stroller was filled, one person would distract the staff and other other two pushed the stroller out of the store.
Officials eventually identified the suspects as Maria Perez, 38, and her daughter Melissa Partida, 19, both of Los Angeles.
Store officials determined that the women are responsible for at about $250,000 in thefts from Victoria's Secret locations across the state since 2016.
Detectives from Thousand Oaks discovered that the mother and daughter traveled to the Bay Area on the weekend of Feb. 10 and allegedly committed similar crimes at Victoria's Secret and other stores there.
Investigators caught up with the suspects in Castaic on Feb. 11 as they were returning home. Authorities found stolen property in the suspects' vehicle, officials said. Perez, Partida and a 15-year-old girl were arrested.
Authorities said that surveillance video from the Bay Area stores show the three suspects using the same tactic.
Perez and Partida were arrested on suspicion of commercial burglary and conspiracy to commit a crime.
The teen faces two counts of commercial burglary, officials said.