This is an archived article and the information in the article may be outdated. Please look at the time stamp on the story to see when it was last updated.
A 33-year-old woman who buried her newborn infant under a pile of rubble next to a Compton bike path, abandoning the baby girl, was sentenced Wednesday to 14 years in state prison.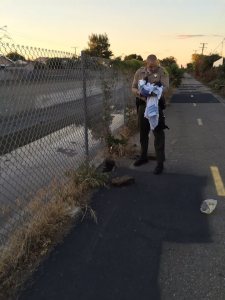 Porche Laronda Washington pleaded no contest to attempted murder in a court appearance Wednesday and was immediately sentenced, according to the Los Angeles County District Attorney's Office.
The three-day-old infant was found Nov. 27, 2015, by two women taking a walk along a riverside bike path in Compton. They heard the baby's muffled cries and called Sheriff's Department deputies, who pulled her from a hole in the ground, wrapped in what appeared to be a hospital blanket.
The baby was hospitalized and was last reported to be in good condition.
Washington was arrested nearly a week later. She had hidden her pregnancy, investigators said.
She was charged with attempted murder and child abuse.
On Wednesday, Washington admitted to an allegation that she committed great bodily injury on a child under six years old.