This is an archived article and the information in the article may be outdated. Please look at the time stamp on the story to see when it was last updated.
A mother who died after being hit by a semi truck in an intersection next to a Hollywood middle school was identified Wednesday.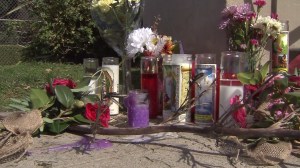 Marleni Edith Barrera, 42, of Los Angeles was the victim in Tuesday morning's collision next to Joseph Le Conte Middle School, according to the Los Angeles County coroner's office.
Barrera was walking with her 9-year-old daughter in a crosswalk when the two were hit by a semi truck carrying a small load of concrete, police said.
The pair were taken to a hospital where Barrera died, and the girl was said to be in stable condition, police said Tuesday.
Police were trying to determine whether the semi truck rolled through a stop sign or came to a complete stop. The driver, whose employer said he had an excellent driver record, passed a sobriety test and was released.
The crosswalk at Fountain and Bronson avenues (map) is in a busy area directly in front of the Le Conte campus, where the daughter attends Citizens of the World Charter elementary school.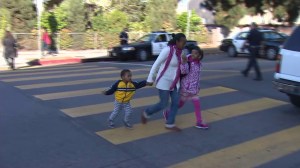 Despite the location qualifying for a crossing guard, none was placed there due to "limited resources," according to a statement issued Wednesday by a spokesperson for the Los Angeles Department of Transportation.
"Safety is a priority for the department, and we are looking at increasing the resources allocated to the crossing guard program and identifying additional safety measures," the written statement read, in part.
In response to Barrera's death, parents and residents in the area had said a crossing guard was needed.
On Wednesday, a parent who knows Barrera called for a traffic light at the intersection.
"It was a very sad day yesterday," mother Lilian Dunker said.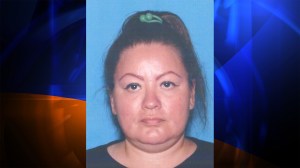 "There are people crossing and there are kids crossing, so sometimes the drivers get a little impatient about it," Dunker said. "I think that's what happened."
Police officers were giving tickets to vehicles that rolled through the intersection on Wednesday.
Check back for updates on this developing story.
KTLA's Fabiola Franco contributed to this article.