This is an archived article and the information in the article may be outdated. Please look at the time stamp on the story to see when it was last updated.
A 32-year-old mother was killed Wednesday night after being hit by two cars while carrying her 2 year-old son across a street in El Sereno, police reported.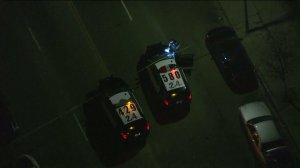 The fatal crash happened about 6:45 p.m. in the 5200 block of Alhambra Avenue near Endicott Street, the Los Angeles Police Department reported. An LAPD detective told KTLA the first car hit the mother and fled the scene. The mother was then hit by a second car. The driver of the second car remained at the scene and was later released.
The mother, who was described as a Hispanic female, died at the scene.
She lived at a home at the corner of Alhambra and Endcott, police said.
Police say it appeared the mother dropped or threw her baby before she was hit by the cars, which likely saved his life.
The 2-year-old boy was taken to a local hospital with non-life threatening injuries, LAPD Officer Sal Ramirez told KTLA.
Speeding might have played a role in the crash, police said.
A family friend told KTLA she believed the mother was trying to cross the street to get to her parked car. The mom leaves behind three children.
Police are looking for a dark colored Honda SUV in connection with the fatal hit-and-run.
The crash remains under investigation.
KTLA's Matt Phillips contributed to this story.