This is an archived article and the information in the article may be outdated. Please look at the time stamp on the story to see when it was last updated.
A mother of eight who was known for her generosity and friendships within the local homeless community was fatally struck by a hit-and-run driver while riding a bicycle on an Anaheim street, police and relatives said Sunday.
The collision was reported at 9:10 p.m. Saturday near the intersection of North Magnolia Street and La Palma Avenue (map), where the victim was hit by a white pickup truck, said Lt. Bob Dunn of the Anaheim Police Department. The driver, who did not stop after the crash, fled north on Magnolia, Dunn said.
The woman was transported to a hospital, where she was pronounced dead about 1 a.m., authorities said.
She was later identified by family members as 44-year-old Daniella Palacios.
Palacios' niece, Ana Pacheco, described her aunt as a "happy-go-lucky" woman who loved music.
Pacheco happened to be driving on La Palma Avenua Saturday night when she saw her aunt's bicycle in the road and called family members to see if Palacios was home.
"I knew that was her bike … Reality kicked in when I parked and saw her in the middle of the street," Pacheco said tearfully. "I just wanted to grab her and hold her. I just wanted her to be OK, just get up and say she's OK. But she didn't get up."
Julie Lopez, the victim's mother, said Palacios is survived by seven of her eight children. One of Palacios' children died several years ago, Lopez said.
Palacios was known for befriending the local homeless community and often donated food and clothing.
"I'm homeless, but it's a really good friend that died. We're really sad. We can't believe it," Melissa Lopez, from Buena Park, said. "She was a very good person, a good woman and she was just nice to us."
A GoFundMe donation page was created for Palacios' family. As of Monday night, $2,275 of the $8,000 stated goal had been donated.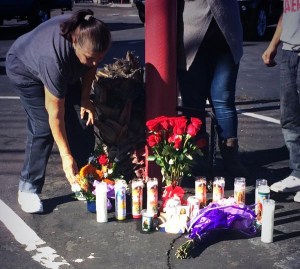 The Anaheim Police Department released a photo that appeared to be from surveillance footage of the white pickup truck believed to be the vehicle that struck Palacios.
The department asked that anyone who may have witnessed the incident contact investigators at 714-765-1900. Anonymous tips can be submitted via Orange County Crime Stoppers at 855-847-6227 or occrimestoppers.org.
KTLA's Mark Mester contributed to this report. 
Correction: An earlier version of this report inaccurately gave Daniella Palacios' age. The post has been updated to reflect her correct age.
More video: