This is an archived article and the information in the article may be outdated. Please look at the time stamp on the story to see when it was last updated.
A woman who was killed when an 80-foot eucalyptus tree fell on a wedding party at a Whittier park was the bride's mother, a law firm for the family confirmed Tuesday.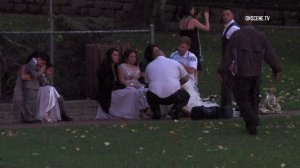 Margarita Mojarro, 61, was at Penn Park on Saturday, Dec. 17, posing for photographs after her daughter's wedding, when she was struck by the tree. She died on the way to the hospital, authorities said over the weekend.
A statement from law firm Andrade Gonzalez, based in downtown Los Angeles, said Tuesday that Mojarro was the mother of the bride, who was not identified.
"Our hearts are broken. What started as a happy day for our family ended in terrible sadness. We are all still trying to understand how this could have happened," the family said in the statement.
The family said it was grateful for community support it was getting, but asked for privacy.
Mojarro's identity was first released by the Los Angeles County coroner's office on Monday.
Six people were hurt when the 80-foot tree fell that afternoon, including a 4-year-old girl who was critically injured with head trauma.
Whittier's city manager said Monday that the city was investigating, and he noted that the tree fell after heavy rain on Thursday night into Friday.
Inspectors are expected to conclude their work at the park by the end of the day Wednesday, Whittier Mayor Joe Vinatieri said in a statement Tuesday afternoon. Others trees inspected thus far look fine, he said.
The findings of the inspection will be shared with the victim's family and the public, Vinatieri said.
"I continue to ask all Whittier residents to pray for and remember this family, who have suffered a terrible tragedy on a day they believed would be filled with celebration," Vinatieri said. "They need to know that our community is with them during this time of need."
The 6-acre park remains closed but is expected to reopen by the end of the week.