This is an archived article and the information in the article may be outdated. Please look at the time stamp on the story to see when it was last updated.
A Los Angeles County Sheriff's deputy whose son was killed in a wrong-way crash with a suspected DUI driver has spoken out about her son's death, calling for ways to alert motorists of wrong-way drivers and warning of the dangers of driving under the influence.
Ottawa Cureton spoke at a news conference in Compton Saturday afternoon about the death of her son, Anthony Thompson, in a Nov. 19 crash on the 605 Freeway in Baldwin Park.
Thompson, 24, was driving a Dodge Challenger when a minivan driving on the wrong side of the freeway slammed into his car head-on, officials said. He was killed and a female passenger with him was left with serious injuries.
The other driver, a female who authorities believe may have been under the influence of alcohol or drugs, was also killed, officials said.
The possible role of substances is still under investigation.
That deadly crash happened the same morning as another wrong-way collision — one that killed the wrong-way driver and passenger in his car, both men in their 30s, officials said. The two women in the other vehicle were left critically injured.
Cureton said highway safety warning systems should be put in place to alert people of wrong-way drivers.
"To congress, to our president, Mr. Trump, that I highly encourage that we get some type of strips that will be installed on the freeways," she said. "That we'll alert or detect someone who's entering the freeway [on the wrong side]."
A Facebook post from the L.A. County Sheriff's Department said such warning systems could include "wrong-way driver signs, tire spikes and sensors on the interstate freeways."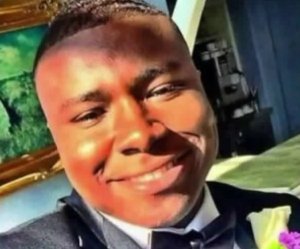 "It's hard because I don't want anyone to endure the pain that I'm enduring — a darkness," Cureton said. "No mother should be burying her child because of someone else's poor judgement."
Thompson was affectionately known as "Baby Koko" and worked as a custody assistant for the L.A. County Sheriff's Department, according to a Facebook post from the department. He was on the road to becoming a sheriff's deputy and rapper at the time he was killed.
"Everyone who knew "Baby Koko" remembers him as being a young man who practiced faith and encouraged everyone live happy lifestyles," the post read. "His big, genuine smile and his funny sense of humor could cheer up anyone he came across."
Thompson's mother spoke of her difficulty grieving the son she lost just days earlier and right before the Thanksgiving holiday.
"I love that little boy with all my heart," she said. "That was my ride or die. That was my little boy."
KTLA's John Fenoglio contributed to this article.