This is an archived article and the information in the article may be outdated. Please look at the time stamp on the story to see when it was last updated.
The mother of a Los Angeles-area student killed when a charter bus and a FedEx truck crashed in Orland, Calif. has filed a wrongful death lawsuit.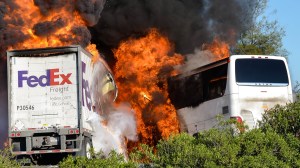 The suit, which was filed in Los Angeles County Superior Court on Tuesday on behalf of Rosa Rivera, the mother of Dorsey High School senior Jennifer Bonilla, claims FedEx trucks have a history of catching fire and that the charter bus was not equipped with adequate safety equipment.
It names FedEx Corporation, FedEx Freight, Inc., Silverado Stages, Inc. and the Estate of Timothy P. Evans as the defendants, court documents showed.
Rivera is suing for damages, including "all past medical, hospital and other medical related charges; burial, funeral and related expenses; past and projected future loss of earning and supports; loss of services; loss of love, comfort, society, companionship affection and moral support; suffering by the deceased; and all statutorily available damages," according to legal documents.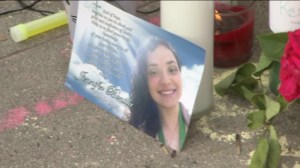 The lawsuit seeks $100 million in general and punitive damages, the Los Angeles Times reported.
FedEx declined to comment on the impending litigation, saying in a statement, "We remain focused on providing support to those affected and cooperating with the authorities as they conduct their investigation."
Ten people were killed and dozens of others were hospitalized when a FedEx truck driven by Evans collided with a charter bus carrying high school students who were on their way to visit Humboldt State University nearly two weeks ago.
The crash was being investigated by local, state and federal agencies, including the National Transportation Safety Board.
Officials have said it could be months before the cause of the collision is known.
 KTLA's Eric Spillman contributed to this report.