This is an archived article and the information in the article may be outdated. Please look at the time stamp on the story to see when it was last updated.
The mother of the 14-year-old girl who was allegedly molested by a former teacher at a performing arts high school in Riverside spoke out Wednesday morning.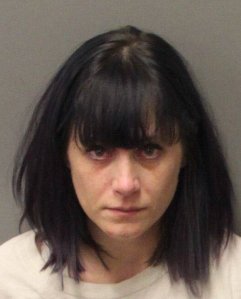 In an emotional interview with KTLA, the mother explained how she found out about the alleged crime.
"I'm a nosy mother. And I grabbed her phone. And I looked at texts from this teacher, sexting my baby over the phone, over the texts – just all this stuff," she said.
KTLA is not naming the mother to protect her daughter's identity.
The teen's mother was the one who reported the allegations to authorities. Following an investigation, 32-year-old Camryn Zelinger of Corona was arrested Monday at Encore High School for the Arts, where she worked, Riverside Police Department Officer Ryan Railsback said.
Zelinger was booked into jail on suspicion of lewd or lascivious acts with a minor and annoying or molesting a child under 18 years old, according to a police news release.
She has since been let go by the high school, police said.
The alleged "inappropriate physical contact and communications" took place over the "past few months," according to a police news release.
Prior to learning of the alleged molestation, the student's mother said she instinctively knew something was wrong, but that her daughter had been too scared to speak up.
"She wouldn't tell me, she was too afraid. She kept saying, 'Nothing, mom, nothing, mom.' But I knew something was wrong," the teen's mother said.
"When I finally found out something was going on, when she told me her teacher was molesting her — first period, eighth period, all throughout the day …" the woman said, breaking down in tears.
A woman standing with the mother during the interview comforted her at that point.
To other parents, she stressed the importance of watching out for their children.
"I would like parents to know, pay attention to your children when they say something is going on or with their emotions, with their actions," she said. "If they come and tell you, 'My teacher touched me this way or this way,' don't brush it off, listen to them."
The family's attorney told KTLA her relatives were "disturbed" by suggestions that the relationship was voluntary or consensual.
"This teacher used her position of power and trust to sort of manipulate this child into doing things that this child thought she had to do," he said, noting the girl "is legally incapable of forming consent."
The attorney added the family was coming forward to potentially "protect other children."
Zelinger was recently married, parents at the school told KTLA. They said she would request other teachers remove the female student from their classroom so she could spend time with the student.
But one parent expressed disbelief over Zelinger's arrest.
"The way she is and the way she interacts with the children, you would never suspect. You would never think she would do something like that," Tiffany Florez said.
The investigation is ongoing, and anyone with additional information is asked to call Riverside police at 951-353-7121 or 951-353-7950.