This is an archived article and the information in the article may be outdated. Please look at the time stamp on the story to see when it was last updated.
The mother of a 26-year-old man who suffered from bipolar disorder said on Sunday that she questions the police department's version of what led up to the fatal shooting of her son at Harbor-UCLA Medical Center.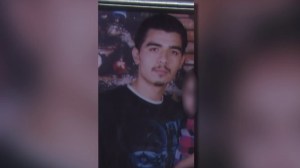 Ruben Jose Herrera was shot at the hospital, in unincorporated Torrance, around 2:30 p.m. Saturday after police said he reached for a gun.
Herrera's name was confirmed by his mother, Graciel Herrera, and the coroner's office on Sunday.
The ordeal began hours prior, when someone reported a man was throwing bottles against an apartment complex, the Los Angeles Police Department said.
In the department's version of the events on Saturday, the vandalism suspect took a fighting stance when officers arrived, kicking and punching at them, and eventually reaching for a gun.
The man's mother said Sunday that Ruben had been sitting and putting air in his bicycle's tires when police arrived, and that he cooperated with them.
Police responded by beating her son — using pepper spray, a Taser on him twice, and socking him multiple times in the face and back, she said.
"My son was doing everything he was told. I told them to stop. My son was bipolar. You know, 'please, don't hit him,'" Graciel Herrera said. "He (an officer) just told me to shut up and go inside."
Ruben Herrera was then taken to Harbor-UCLA Medical Center, and was initially said to be cooperating with police, LAPD Cmdr. Phillip Tingirides said.
It was not known what he was treated for, but his mother said he suffered injuries to his face and knees.
During treatment, Herrera was handcuffed to a gurney in the hospital's emergency room.
His handcuffs were briefly taken off around 2:30 p.m., when Tingirides said the suspect picked up a metal chair and began swinging it.
Witnesses told police the man reached for an officer's gun, prompting an officer to fire a single round.
Medical responders at the hospital attempted to save Herrera's life, but he was pronounced dead at the scene, Tingirides said.
The man's mother says the officers should have treated her son differently.
"If my son is bipolar, and they know he's in danger, why do they unhandcuff him? I know my son didn't do that. They're just lying," Graciel Herrera said.
She then claimed police were telling a version of the story that would protect themselves.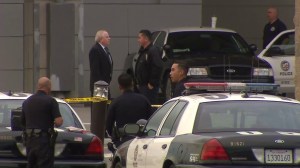 "They didn't have to kill my son. My son was only 26. Regardless of whatever they say, they shouldn't have taken his life like that," she said.
Police have not said whether or not the altercation was captured on video.
Graciel Herrera was informed of her son's death around 9 p.m., and after police had told her daughter around 3 p.m. that Ruben had been released from the hospital, she said.
Ruben Herrera was the 20th person in 2015 to have been shot and killed by an on-duty LAPD officer, and 35th to have been shot, the Los Angeles Times reports.
The case was being investigated by the Officer of Inspector General.