This is an archived article and the information in the article may be outdated. Please look at the time stamp on the story to see when it was last updated.
As flames raged through a Ladera Heights residence early Tuesday, a mother desperate to save her children from the fire tossed them out of a second-floor window before jumping to safety out of the burning structure.
The fire erupted shortly before 1 a.m. at a two-story residence in the area of Corning and Slauson avenues, according to Los Angeles County Fire Department Battalion Chief Mike Brown.
It began downstairs and spread to the second floor. By the time firefighters from three separate agencies responded, the entire structure was "fully involved" in flames, he said.
A family of three in the upstairs portion of the house — a mother, Carla Langley, and her 8-year-old twins, Hunter and Alexandra — were awakened by the sound and smell of the fire.
They managed to make it safely out of the home, thanks primarily to Langley's actions.
"Just her heroic effort of taking notice of the fire, (she) was able to get the kids out safely," Brown said.
According to the children's grandmother, Langley saved the children by getting them out through a window.
"It started downstairs, and she had to throw the kids out the window because nobody would help. And then she was able to jump out the window," said the grandmother, who identified herself only as Anita. "She's got a few cuts, the kids are OK, luckily, thank God."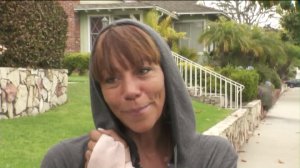 Langley received deep cuts from breaking the window and required 14 stitches, according to fire officials.
She told KTLA that she was screaming to people down below for help but nobody tried to assist her.
"I pulled the mini blind back and that's when I saw an inferno of smoke. I started punching that window. I ripped the screen open and I grabbed my comforter and threw it over that window," said Langley. "I saw people outside and I was like, 'Help, my babies, my babies,' and nobody came. They're all standing there; no one came."
In an interview, Langley said she doesn't consider herself to be a hero and said that she is just a mother who loves her children.
"I'm not a hero; I'm just a mom," said Langley with tears in her eyes. "Immediately I grabbed my daughter, leaned as far as I could and I let her go. She fell on her stomach and then I grabbed Hunter and did the same thing. I can't imagine dying in smoke and not doing anything about it. I was like, 'I'm not going out like this.' I will do anything for my family and I did."
The twins each received minor abrasions from the steep fall and were most upset that their turtle, Mikey, did not escape the fire, officials said.
Responding firefighters from L.A. County Fire, along with assistance from the Los Angeles and Culver City fire departments, were able to extinguish the blaze in 30 to 40 minutes, according to Brown.
However, the residence — which consisted of a downstairs and upstairs unit, and housed two families — was heavily damaged, he said. Brown said the first-floor residents were away on vacation.
Cause investigators were on scene and working to determine how the fire started.
A GoFundMe page has been set up for the family.