This is an archived article and the information in the article may be outdated. Please look at the time stamp on the story to see when it was last updated.
An arrest has been made in a high-profile highway violence incident that left a vehicle overturned on the 14 Freeway in Santa Clarita last year, the California Highway Patrol announced Wednesday.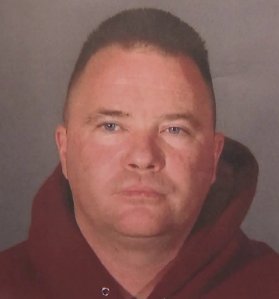 Andrew Flanigan, 45, was booked on suspicion of assault with a deadly weapon, reckless driving and hit-and-run, all felonies, CHP Assistant Chief Mark Garrett said at a news conference.
Flanigan was identified as the motorcyclist sought in connection with the June 21 crash, which occurred on the southbound 14 near Newhall Avenue and was captured in a viral video, Garrett said. He credited the widely seen footage with giving them "great" leads in the case, calling it a "major" part of the investigation.
The apparent road-rage incident began when the driver of a silver sedan cut in front of a motorcyclist, according to witnesses Tim Morrison and Chris Traber. As the situation escalated, Traber took out his cellphone and began recording.
The footage showed the motorcyclist apparently kicking the side of the car while both were in the carpool lane. The sedan swerved into the motorcycle, but the rider managed to avoid crashing.
At that point, the car appeared to lose control and struck the median. It then traveled back into traffic and crashed into a passing white Cadillac Escalade, causing the luxury vehicle to overturn and land on its roof.
The Escalade driver received moderate injuries in the rollover crash.
Authorities were investigating the incident as a possible hit-and-run because the motorcyclist fled the scene, authorities said at the time.
Flanigan was identified as the possible motorcyclist within a week of the incident, but Garrett said they needed to make sure he was the suspect. In order to build a case, authorities decided to monitor him using techniques that the assistant captain declined to get into in order to protect the integrity of the investigation.
"We feel that we have the person responsible for this incident," he said.
Investigators didn't believe that Flanigan posed a threat to public safety, otherwise they wouldn't have waited eight months to make the arrest, Garrett added.
Authorities took the Arleta resident into custody on Tuesday evening. Flanigan was released the following morning on $110,000 bail, according to inmate records.