This is an archived article and the information in the article may be outdated. Please look at the time stamp on the story to see when it was last updated.
An investigation was underway Sunday in Los Angeles, after a motorcyclist slammed into the back of a BMW and was killed, authorities said.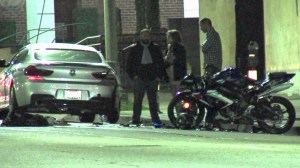 The crash occurred just before midnight near the corner of La Cienega Boulevard and Waring Avenue (map), according to the Los Angeles Police Department.
A male motorcyclist approached the driver of a Lamborghini, near the Beverly Center, and tried to race him, witnesses said.
When the driver refused to race, the motorcyclist reportedly revved his bike and sped away.
But he ended up slamming into the back of a nearby BMW, police said.
"When he took off, he unfortunately didn't see a vehicle that was up ahead of him and he collided into the rear of that vehicle," LAPD Captain Rolando Solano said.
The motorcyclist was ejected from his bike.
Paramedics rushed him an area hospital, where he was pronounced dead, police said.
The motorcyclist was described as being in his 20s.
No one else was injured.
Police said the drivers of the other cars remained at the scene, and no charges would be filed.