This is an archived article and the information in the article may be outdated. Please look at the time stamp on the story to see when it was last updated.
Police asked the public for help Monday in their search for a gunman who fatally shot a motorcyclist in Wilmington the night before.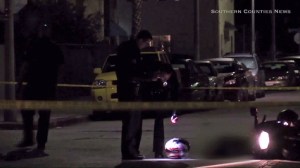 The shooting occurred about 11:30 p.m. Sunday near the intersection of West D Street and Gulf Avenue, said Sgt. Pinel with the Los Angeles Police Department.
Responding officers found the motorcyclist, later identified by the Police Department as 34-year-old Julio Cesar Pena, down in the street with multiple gunshot wounds, Pinel said.
Paramedics with the Los Angeles Fire Department pronounced Pena dead at the scene, according to a news release from LAPD.
Investigators believe the gunman approached Pena, who was riding his motorcycle home, while he was at a four-way stop.
The gunman stepped off the curb and shot Pena several times before Pena lost control of his motorcycle, the new release stated.
No details on the gunman or a motive for the shooting were immediately available.
Anyone with information was asked to contact investigators at 310-726-7882, or 310-726-7880.
Those who wish to remain anonymous can call Crime Stoppers at 1-800-222-TIPS (800-222-8477).