This is an archived article and the information in the article may be outdated. Please look at the time stamp on the story to see when it was last updated.
A motorhome driver was pronounced dead after losing control of the vehicle and crashing through a Sylmar home late Thursday night.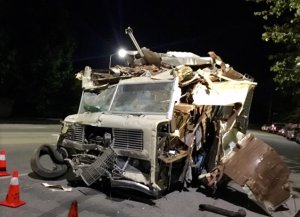 The crash occurred about 11:39 p.m. after the motorhome driver lost control and drove into a home in the 13000 block of Borden Avenue, according to Margaret Stewart with the Los Angeles Fire Department.
The driver, who was said to be a man in his 50s, never tried to stop before crashing into the home, said Officer Harris with the Los Angeles Police Department.
"The reason why we feel that he did not try to stop is because we have no evidence of skid marks," Harris said.
The motorhome ended up about 12 to 15 feet inside the home, Harris said.
The driver of the motorhome, who has not been identified, was pronounced dead following the crash, according to Stewart.
Investigators were trying to determine if the driver suffered a medical condition or possibly fell asleep prior to the crash.
No one inside the home was injured in the crash, according to Stewart.