This is an archived article and the information in the article may be outdated. Please look at the time stamp on the story to see when it was last updated.
A juvenile mountain lion that was the only male known to have dispersed north from the Santa Monica Mountains was struck by a vehicle and killed on the 5 Freeway near Castaic Lake, the National Park Service announced Thursday.
The animal, P-32, was about 21 months old. He was believed to have been hit between 4 and 6 a.m. Monday.
P-32 had managed to cross the wall-like 101 Freeway in the Thousand Oaks area in April, leaving the Santa Monicas, where he was born near Malibu Springs.
He also crossed State Route 23, the 118 Freeway and State Route 126 to get to the mountainous area where he roamed before his death.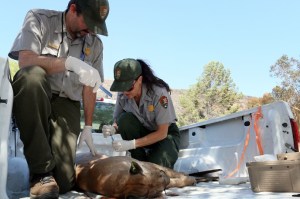 "What had been a textbook case of successful dispersal all the way from the Santa Monica Mountains into Los Padres National Forest took an unfortunate turn when he headed east and attempted to cross one additional freeway," a park service press release stated.
P-32 was tagged with a GPS collar at four weeks of age as part of the service's local mountain lion study. He is the 12th mountain lion killed on a freeway or road since the study began in 2002.
He was likely trying to avoid conflict with other males and establish his own range, according to a blog post from the park service. Lions need a range of 75 to 200 square miles, and males are on the upper end of that range, the post stated.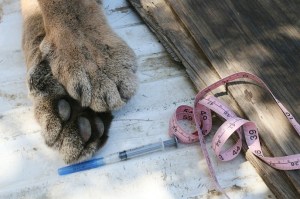 Habitat fragmentation due to development and busy roadways, along with intra-species conflict, are the two most common challenges for mountain lions in the Los Angeles region.
Only one other male has successfully dispersed from the Santa Monica Mountains: P-22, the famed denizen of Griffith Park. His journey is not considered successful, however, because he has no available mates on the comparatively small patch of wild land where he lives.
Wildlife biologists planned to do a necropsy to determine whether P-32 was exposed to rat poison. His body appeared to be in good condition aside from the fatal injuries from the crash.