This is an archived article and the information in the article may be outdated. Please look at the time stamp on the story to see when it was last updated.
The 7-month-old mountain lion kitten known as P-52 was hit and killed by a vehicle on the 118 Freeway not far from where his mother was fatally struck about a month ago, officials said Thursday.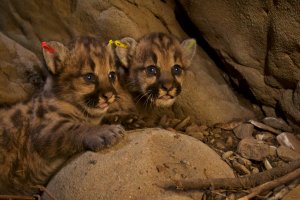 The Santa Monica Mountains National Recreation Area — which announced the news in a Facebook post — did not immediately release details about the death, including when it happened.
The kitten's mother, P-39, died on Dec. 3 after being hit by a car on the 118 Freeway just east of the Rocky Peak exit. The two incidents took place a few miles apart, the post stated.
"Although this is a very sad turn of events, I hope that our research can shed insight into the lives of these animals and will inspire future conservation efforts to help wildlife move through the region more safely," Ranger Kate said in the post.
P-52 is the 14th known mountain lion to be killed while crossing a freeway or a road since 2002.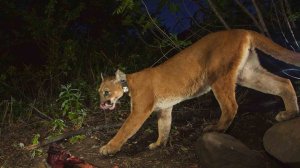 The mountain lion's remains have been collected by the California Department of Fish and Wildlife, and a necropsy will be conducted to determine whether he was otherwise healthy.
P-52 was one of three kittens that were born to P-39 last year. At the time of the mother mountain lion's death, officials said they were uncertain whether the kittens — which did not have tracking devices — were alive, but that it was unlikely they had developed the hunting skills needed to survive on their own.
"We don't have any information about the other two kittens and are still unsure whether they were alive when their mother was killed," Ranger Kate said in a comment under the post.