This is an archived article and the information in the article may be outdated. Please look at the time stamp on the story to see when it was last updated.
A mountain lion that wandered into an autobody shop in Antelope Valley knocked down a mechanic who came to open up the shop Friday morning, he said.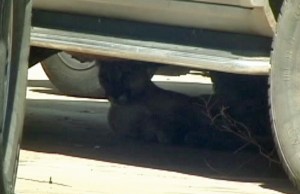 The 75-pound female mountain lion was soon tranquilized by responding state wildlife officers and will be transported back to a wild area.
The animal was reported to the Los Angeles County Sheriff's Department about 8:45 a.m. at LJ Automotive, at 415 Sierra Highway, near Palmdale, Lt. Belinda Johnson said.
Shop mechanic Hank Barkefelt said he went to open the business when the animal leapt out.
"I just walked in, regular routine … went to open the door. He came out of a cubby hole, knocked me down and took off," Barkefelt said. "I was lucky, very lucky."
Barkefelt called 911.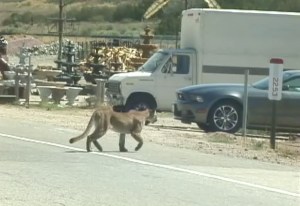 A California Department of Fish and Wildlife warden was called to the scene while responding sheriff's deputies kept an eye on the cougar, which took up a spot under a vehicle.
Wardens saw that the big cat had no direct route back to open space and decided to tranquilize it with a dart gun, according to state wildlife department spokeswoman Janice Mackey.
The lion was about 2 or 2 1/2 years old and in very good health, state wildlife patrol Lt. Marty Wall said on scene.
"With the freeway and the people around and everything, I didn't feel it was safe to let her get back where she needs to be on her own," Wall said. "She's sleeping comfortably right now."
Video from the scene showed the mountain lion shifting under the truck as a warden and deputies gathered nearby, with at least one helicopter hovering overhead. The animal moved through the autobody shop, across Sierra Highway and into the yard of a neighboring business, where she collapsed.
Wall said the situation wasn't dangerous.
"In general, a healthy mountain lion that isn't cornered or injured doesn't represent a huge risk to people as long as they steer clear of it," Wall said.
Amid the day's heat, he doused the puma with water before transporting her in the back of a truck.
"She just found herself in a bad place at a bad time," Wall said.
Wall couldn't say specifically what brought the mountain lion to autobody shape. He said he sees one or two mountain lions per year that walk across the desert into populated areas, regardless of drought or weather.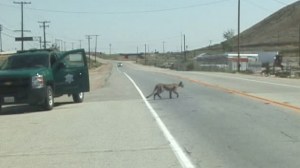 Mackey said the animal just took a "wrong turn" and didn't know where she ended up.
"The cat had probably crossed a busy freeway to get there, probably in the middle of the night," Mackey said.
The animal will be taken to a remote undisclosed area of the Angeles National Forest and released, Wall said.
A wildlife officer will stay with her to ensure she gets back up on all four feet and can walk away, Mackey said.
The department plans to distribute a photo of the animal once she's been released.