This is an archived article and the information in the article may be outdated. Please look at the time stamp on the story to see when it was last updated.
A mountain lion that was photographed on top of a power pole in the Lucerne Valley on Tuesday came down later that night, the Victor Valley Daily Press reported on Wednesday.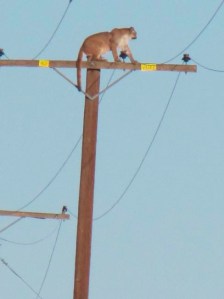 The cougar was first spotted on a 35-foot-high wooden power pole about two miles south of Cougar Buttes on East End Road, according to the newspaper.
It was unclear why the animal climbed the pole, but it may have been chased up there by another mountain lion after entering its territory, Andrew Hughan with the Department of Fish and Wildlife said.
It may also have been frightened by dogs or people, according to the newspaper.
California Department of Fish and Wildlife officials were originally hoping Tuesday that the cougar might climb back down from the power pole and go back into the wild after dark, the Daily Press reported.
It came down sometime that night, a local resident told the paper.
If the mountain lion had not come down come down on its own, getting it down would pose a challenge for Fish and Wildlife officials.
Tranquilizing the animal could cause it to fall to the ground or into the power lines, according to Hughan.
While mountain lions are not uncommon to the area, Hughan said no one he's talked to can remember seeing one on top of a utility pole before.