This is an archived article and the information in the article may be outdated. Please look at the time stamp on the story to see when it was last updated.
California wildlife wardens removed an adult male mountain lion from a residential backyard in Azusa Friday afternoon after the animal climbed up a tree.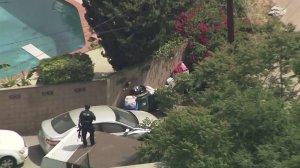 The cougar was reported by multiple people who saw the big cat roaming in the area of the 500 block of East Sixth Street about 11 a.m. Friday, according to the Azusa Police Department.
Officers responded and spotted the mountain lion, believed to be about 140 pounds, some 30 feet up a tree behind a home.
Nearby Slauson Park was evacuated and Charles Lee Elementary School was placed on lock down as a precaution, police said.
Lt. Chris Stoots of the California Department of Fish and Wildlife said a tranquilizer dart was administered on the cougar about 1:20 p.m. Authorities were waiting for the drug to take effect so they could move the animal back to the mountains, Stoots said.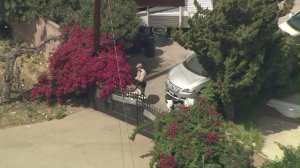 Police later said the animal was safely removed from the tree and was not injured.
The area is about 1 1/2 miles from the San Gabriel Mountain foothills, which are natural mountain lion habitat. It's not clear what drew the mountain lion into a developed area.
KTLA's Irving Last and Jennifer Thang contributed to this article.
— ETACANDSAFETY (@Etacandsafety) April 7, 2017