This is an archived article and the information in the article may be outdated. Please look at the time stamp on the story to see when it was last updated.
Mourners gathered Saturday at two funeral services for three 13-year-old girls, two of whom were twin sisters, who were killed by a hit-and-run driver while trick-or-treating on Halloween in Santa Ana.
Sisters Lexi Perez Huerta and Lexandra Perez Huerta and their friend Andrea Gonzalez were walking in a crosswalk on Fairhaven Avenue (map) when an SUV plowed into the girls, throwing them more than 100 feet. All three died at the scene, authorities said.
Since the crash, a memorial at the scene including balloons, posters and stuffed animals, had expanded and as of Saturday blocked off part of Fairhaven Avenue. Mourners have been seen gathering and praying in the area since the Oct. 31 incident.
A funeral for the Perez Huerta sisters began around 8:30 a.m. at Our Lady of Guadalupe Church located at 1322 East Third St. in Santa Ana (map).
Gonzalez's funeral began around 9:30 a.m. at Holy Family Cathedral at 565 South Glassell St. in Orange (map).
Standing outside the church Sunday morning, family friend George Alverado remembered Gonzalez as "really nice — [a] loving, caring family member."
"It's nice to know that there's people out there that actually care," he said.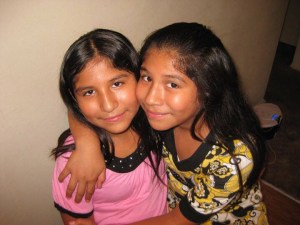 The SUV that struck the girls was left in a parking lot near the incident, where a witness said multiple people fled on foot. Photos later revealed the vehicle had a shattered windshield and severe damage to its hood and passenger side.
Three days after the fatal hit-and-run, 31-year-old Jaquinn Ramone Bell was arrested in connection to the incident. Authorities said his two children, ages 14 and 17, were also in the SUV at the time.
Bell was charged with three felony counts of vehicular manslaughter with gross negligence, one felony count of hit-and-run with permanent injury or death, and one misdemeanor count of driving on a suspended license, according to a joint statement from the Santa Ana Police Department and Orange County district attorney's office.
He had previously been convicted for charges related to a DUI hit-and-run, and was driving with a suspended license at the time of the deadly crash.
Under California law, if a person previously convicted of DUI kills someone while driving under the influence, that driver may be charged with murder. However, prosecutors said it would be difficult to prove Bell was driving under the influence Halloween night since he fled the scene and was not given breathalyzer or field-sobriety tests.
"Is that possible — could you have evidence of intoxication or alcohol ingestion even though the suspect flees the scene? It could happen," prosecutor Keith Burke said last Tuesday. "Obviously it makes it more difficult to determine."
As of Saturday, nearly $80,000 dollars had been donated to the girls' families through GoFundMe accounts. The city of Santa Ana established a website for those who wished to donate, and separate GoFundMe accounts were established for the families of the Perez Huerta twins and Gonzalez.
KTLA's John A. Moreno contributed to this report.
More Video: