This is an archived article and the information in the article may be outdated. Please look at the time stamp on the story to see when it was last updated.
A moviegoer said Monday she "expected shooting to start at any moment" as she and others were fleeing a screening of "The Gift" in Newport Beach after someone opened an emergency exit door with what appeared to be a gun or some type of weapon.
Authorities received multiple 911 calls about a disturbance at the Edwards Big Newport 6 movie theater complex in the 300 block of Newport Center Drive (map) beginning about 10:51 p.m. Saturday, the Newport Beach Police Department stated in a news release.
The callers reported that at least two men had entered a theater with a loud, handheld machine.
"All I could think of was James Holmes and the Aurora, Colorado, movie shooting … my boyfriend and I believed that this was a person with a weapon — probably a gun — and fully expected shooting to start at any moment," witness Katrina Wolfe wrote in an email to KTLA.
Another moviegoer said the man was screaming when he burst through the emergency exit door.
"All of a sudden someone comes in screaming from the emergency exit … he waves something in the air and cranks it and everyone thinks it's a chainsaw," Kyndall Aldama said.
Investigators later determined the machine was a leaf blower, and two or three men had arranged to open an emergency exit door at one of the screenings.
"The suspect yelled, shook the leaf blower, and revved the leaf blower's engine to create a loud and disturbing noise," according to the news release.
Moviegoers began rushing for the exits.
"Everyone was just basically running for their lives, screaming 'bloody murder,'" Mara Rothbart said.
As patrons hurried to get out of the theater, three people were left with what authorities described as minor injuries.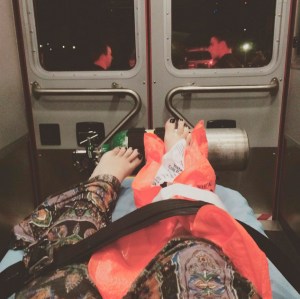 "My leg was trampled by the a——s who went into fight-or-flight mode. Someone picked me up and saved me though. Thank you," Aldama posted on Instagram, along with a picture of herself inside an ambulance on the night of the incident.
The men involved in the scare also fled the theater, using the same emergency exit door they had opened, the Police Department stated.
They "entered the theater with the intention of scaring moviegoers," the news release stated.
One young girl, who was at the theater with her father, was screaming and crying hysterically, according to Wolfe.
Investigators believe two or three white or Hispanic men, ranging from their late teens to early 30s, were involved.
Anyone with information was asked to contact Detective Joshua Vincelet at 949-644-3779 or jvincelet@nbpd.org.
Those who wish to remain anonymous can contact the Police Department's tip hotline at 1-800-550-NBPD.