This is an archived article and the information in the article may be outdated. Please look at the time stamp on the story to see when it was last updated.
The 91 Freeway reopened Wednesday afternoon after a rock and mudslide triggered by heavy rainfall prompted a partial closure through the Anaheim Hills area ahead of the morning rush-hour commute, snarling traffic in the area.
All eastbound lanes were shut down for hours on the freeway near Green River Drive after the flood of mud and rocks came off the hillside just before 2 a.m., according to the California Highway Patrol's incident log.
A SigAlert was issued around 2:30 a.m., and all eastbound traffic was diverted off of Gypsum Canyon Road.
The northbound 241 to the eastbound 91 was also closed.
Between five and seven vehicles became stuck as thick mud flooded the freeway and large rocks blocked lanes. Tow trucks were called to the scene within an hour, and the vehicles were removed from the mud.
Around 7:15 a.m., at least four left lanes, including the FasTrak lane, had been reopened, aerial video over the scene showed.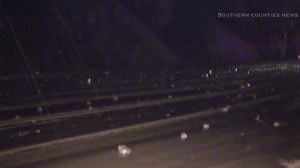 The right two lanes would be closed for an undetermined amount of time as geologists headed to the scene to assess the hillside, according to Sgt. Todd Koehler with the CHP.
Traffic in the area was jammed following the hourslong lane closures, according to the aerial video.
Koehler said drivers could get around the area by taking the northbound 57 Freeway to the 60 Freeway to cut across, or they could go down to the Ortega Highway.
He also encouraged motorists to be extra careful while driving in inclement weather.
"Best thing to do is just slow down, give yourself extra space and extra time to get to wherever your destination is," Koehler said.
At about 1 p.m., crews had cleared the final two lanes and reopened the freeway.
More video: