This is an archived article and the information in the article may be outdated. Please look at the time stamp on the story to see when it was last updated.
Cleanup was underway in the Antelope Valley on Saturday, days after a severe storm brought torrential rains, flooding and mud and debris flow that left several homes severely damaged, hundreds of cars stranded and multiple roads and freeways closed.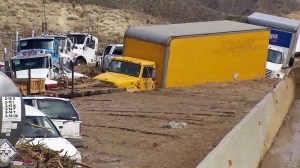 The damage and destruction came amid what the National Weather Service deemed a "1,000-year rain event," which dumped some 3 inches of rain in the Leona Valley in a span of 30 minutes.
Los Angeles County Public Works crews continued their work to remove some 300,000 cubic yards of mud and debris throughout the region, the agency said in a tweet.
In some parts of the Antelope Valley, crews had deal with mud that was as high as 4 feet as they cleared some 29 miles of county roads.
Public Works and Los Angeles County Fire Department inspectors found five structures heavily damaged, three homes flooded and one modular home destroyed, the agency tweeted.
A resident told KTLA on Saturday that he witnessed at least one mobile home being swept away in floodwater.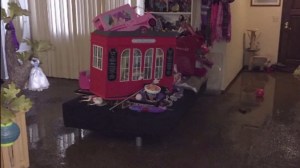 "This mobile was right over here behind that tree," said Steve Lopez, gesturing to an area that was hundreds of feet away from the home's current location.
One of the damaged houses belonged to a Vietnam veteran and his wife, both of whom are disabled. Joe and Peggy Cruz's home sustained excessive damage, and several personal items considered irreplaceable were also destroyed, according to a GoFundMe page for the couple.
The fundraising page was created to help the family with repairs, according to the daughter, who stated the homeowner's insurance would not help them.
A number of Antelope Valley residents were also displaced as a result of the storm, which resulted in the American Red Cross setting up multiple shelters in the area. It was not immediately clear how many people were displaced.
Deputies and Public Works crews were also going door-to-door to check if anyone was trapped, according to the Los Angeles County Sheriff's Department. At last report, the occupants of 756 homes were accounted for and safe, officials said.
The city of Palmdale, meanwhile, has declared a local disaster, according to Public Works.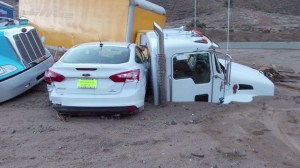 In the wake of severe storm damage, Supervisor Mike Antonovich — who represents the northern part of L.A. County — said he would also ask the Board of Supervisors to declare a local emergency in parts of the Antelope Valley.
While many of the roadways and streets impacted by Thursday's weather have been reopened, including a 40-mile stretch of the 5 Freeway at the Grapevine, some closures remained in effect.
Perhaps the most notable was a portion of State Route 58 west of Mojave, where powerful downpours on Thursday left the roadway covered in mud and debris that was up to 6-feet high and left nearly 200 vehicles stranded overnight.
The highway was shut down from the junction of State Route 202 to the junction of State Route 14, according to Caltrans. No indication was given for when the roadway would reopen.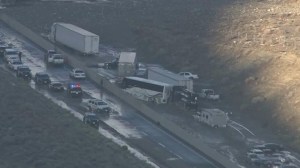 Many cars trapped on State Route 58, as well as vehicles stranded on other roadways, were still stuck in several feet of mud. It was not clear how long cleanup efforts would take.
Meanwhile, forecasters warned of the threat of thunderstorms in parts of Southern California this afternoon and early evening, according to the weather service.
Any storm that developed was expected to be slow-moving, and could result in flash-flooding, and mud and debris flows, forecasters said.
As a result, flash flood watches were in effect through the evening in the L.A. County, Ventura County and Santa Barbara County mountains, and the Antelope Valley.