This is an archived article and the information in the article may be outdated. Please look at the time stamp on the story to see when it was last updated.
As efforts continued to locate a firefighter who went missing after chasing after his dog during a backpacking trip in the Los Padres National Forest, a canine matching the pet's description was spotted Wednesday.
The sighting of the dog by search teams offered hope that Michael Herdman, a seven-year veteran of the Arcardia Fire Department, was alive in the mountain about Fillmore.
"We are all expecting to see Mike come over the hill behind us and be surprised to see us all here," said family friend Mike MacGregor.
Herdman had been on a camping trip with a friend and colleague Friday evening when the two men ran after the dog and became separated, according to Beth Stogner, a spokeswoman for the Fire Department.
Herdman was last seek chasing after the dog, Duke, near Sespe Creek.
When 36-year-old Herdman did not return to the camp, Taylor Byars unsuccessfully searched for him, then made the two-day hike out of the wilderness to report his friend's disappearance to authorities on Sunday.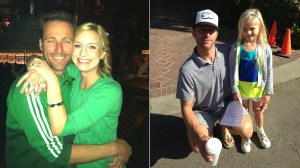 Search efforts began Monday morning. About 50 search-and-rescue personnel were still scouring the backcountry Wednesday, said Sgt. Eric Buschow of the Ventura County Sheriff's Office.
The searchers included deputies from the Los Angeles, Orange, Ventura and San Luis Obispo county sheriff's departments.
Three hikers came into the command post at the Tar Creek trailhead Wednesday and said they heard noises inside a cave, prompting a search crew to head to that area, Buschow said.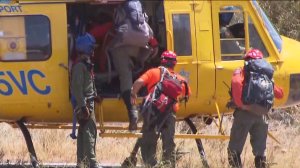 Family and friends were at the command post to support the search on Wednesday, when a dog that looked like Duke was spotted but ran away.
Two volunteers were hurt — with a calf injury and an ankle injury — while navigating uneven terrain, said Dr. Jerry Maryniuk, medical director with the Ventura County search team.
K-9s began assisting in the search Wednesday while crews looked at canyons near where Herdman was last seen, Buschow said.
"In this particular case, there's a lot of cliffs, a lot of large boulders. He could easily have fallen and be injured and underneath one of those, so we have to look under every nook and cranny," said Reserve Chief Mike Leum of the L.A. County sheriff's Search and Rescue Team.
Herdman, who is known to be physically fit and an avid outdoorsman, was barefoot and wearing shorts and a T-shirt when he was last seen, officials said.
He had backpacking experience in the Sierra Nevada and the Sespe Wilderness where he was last seen, MacGregor said.
"I have no doubt that he can survive out there for weeks," MacGregor said.
Daytime temperatures have been mild and nighttime lows in the 40s were "still survivable," Buschow said.
"And if he stayed near the creek, he'd have access to water," Buschow added.
Herdman's backpack was found on Monday, and footprints were found both Monday and Tuesday, authorities said.
KTLA's John Moreno, Ashley Soley-Cerro and Melissa Pamer contributed to this report.