This is an archived article and the information in the article may be outdated. Please look at the time stamp on the story to see when it was last updated.
Five people were arrested in connection to a hit-and-run that killed three 13-year-old girls who were trick-or-treating Halloween night, officials said Sunday.
Twins Lexi Perez and Lexandra Perez and their friend Andrea Gonzalez were walking in a Santa Ana crosswalk Friday around 6:45 p.m. when a Honda CRV slammed into the three girls, throwing them more than 100 feet, officials said.
"Witnesses say the vehicle was traveling at a high-rate of speed. I didn't see any skid marks, so it doesn't appear they slowed down whatsoever," Santa Ana Police Department Capt. Anthony Bertagna said. "They left these three young women laying in the street, and left without calling, without stopping, without rendering aid. It's hard to even fathom doing that."
A witness followed the SUV, which was left at a strip mall parking lot about a quarter mile from the crash site, and said a male driver and passenger fled on foot.
Multiple people were arrested in connection to the crime, a Santa Ana Police Department news release stated Sunday. More details were expected to be given during a Monday news conference around 11 a.m.
The arrests were made around 11:30 a.m. Sunday, Bertagna told the Los Angeles Times.
Santa Ana Mayor Miguel Pulido later said five people had been arrested.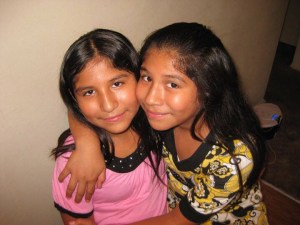 Andrea Gonzalez's brother said he was comforted by the arrests.
"The people who did this left them there as if they were nothing. They're finally in custody and have to answer to justice, that brings such a sigh of relief not just to my parents, not just to the twins' family, but just to the whole community," brother Josafar Gonzalez said.
Two GoFundMe donation pages were established over the weekend for the girls' families.
Over $23,000 had been donated to the Perez Huerta family as of Sunday night. The stated goal was $10,000.
The principal of Santiago Charter Middle School, where Gonzalez was an eighth grader, established a separate GoFundMe account for the young girl's family. The $15,000 goal was nearly reached by Sunday night.