This is an archived article and the information in the article may be outdated. Please look at the time stamp on the story to see when it was last updated.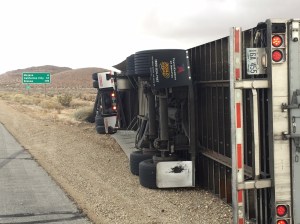 Multiple big rigs tipped over amid high winds in the Antelope Valley Tuesday, and all northbound lanes of State Route 14 were temporarily closed, according to CHP.
Possibly as many as seven trucks were toppled, California Highway Patrol Officer Michelle Bond said. She could not provide an exact number of vehicles affected.
The northbound 14 was closed at West Avenue D, between Lancaster and Rosamond, Bond said about 10:30 a.m. The duration of the closure was unknown, Caltrans District 7 stated on Twitter.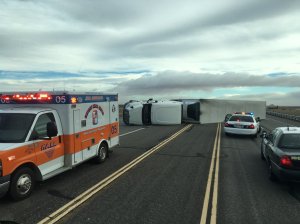 Around 11:45 a.m., the roadway was reopened to passenger vehicles but was shut down from Avenue D all the way to Lone Pine for high-profile vehicles, CHP's Southern Division said on Twitter.
CHP's traffic incident log indicated that the closure for high-profile vehicles indeed extended to Highway 395 in Lone Pine, nearly 140 miles north.
Winds were very heavy, Bond said, and a KTLA viewer reported a "bad wind storm" in the Mojave area, to the north of the initial roadway closure.
The National Weather Service issued a high-wind warning for the Antelope Valley and Los Angeles County mountains through noon Wednesday. Damaging gusts of up to 60 mph were likely, the weather service said.
The winds are capable of downing trees and power lines and can make driving "very dangerous," especially for high-profile vehicles, the service warned.
Areas of blowing dust and sand could reduce visibility to nearly zero in the Antelope Valley.
Visibility was at a quarter-mile at about 11:30 a.m. in Lancaster, where gusts of up to 76 mph were recorded, the weather service said.
ME190 on scene with overturned trucks in Mojave this morning. @CalCityFD pic.twitter.com/kQ3FGdqqjt

— Brandon Vaccaro (@BVaccaro5501) December 22, 2015
^TRAFFIC ADVISORY ANTELOPE VALLEY: NB SR-14 AT AVENUE D THRU LONE PINE- ALL LANES CLOSED TO HIGH PROFILE VEHICLES ONLY- PSNGR VEHICLES OK

— CHP PIO - LA County (@CHPsouthern) December 22, 2015
Strong W-NW winds across region today. Mountains and #AV damaging gusts over 60 mph with reduced vsybs in blowing dust. #LAWeather #cawx

— NWS Los Angeles (@NWSLosAngeles) December 22, 2015
At 9 am, Poppy Park in #AV reporting west winds of 50 mph gusting 64 mph. #LAWeather #cawx

— NWS Los Angeles (@NWSLosAngeles) December 22, 2015