This is an archived article and the information in the article may be outdated. Please look at the time stamp on the story to see when it was last updated.
Thirteen people were hospitalized and multiple lanes of the eastbound 60 Freeway were temporarily closed after two big rigs and a tour bus crashed in Hacienda Heights Wednesday morning, according to Los Angeles County Fire Department officials.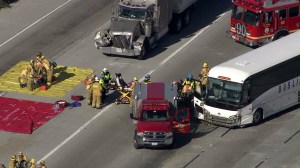 The crash occurred near the eastbound 60 Freeway and Seventh Avenue around 9:40 a.m.
The collision was described as a "glancing blow, which is better than it could been," fire Capt. Keith Mora said.
"This had the potential to be extremely bad," he said.
A preliminary investigation indicated one big rig struck a second, which in turn veered toward the center divider and collided with the tour bus, according to Al Perez of the California Highway Patrol. The bus was either in the carpool or No. 1 lane, Perez said.
"It's very fortunate for everyone involved that no one got seriously hurt," said Perez, who was on scene.
The bus was labeled "Bus Limo Express" and, in much smaller letters, "operated by Da Zhen," aerial video showed.
When called and asked in Mandarin about the crash, a representative of the Da Zhen Travel Agency in Monterey Park confirmed the bus was headed from Monterey Park to Pala Casino in San Diego County.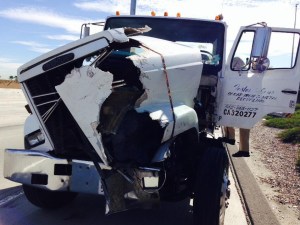 The company would not, however, provide a comment to KTLA. Da Zhen Travel was the operator in an August 2013 bus crash that left dozens injured in Irwindale after what authorities said was an "unsafe lane change."
Of those wounded in Wednesday's crash, 20 were considered "walking wounded," who were able to exit their vehicles and appeared to have scrapes, bumps and bruises, Mora said.
Officials later said a total of 23 people were assessed in connection with the crash.
Thirteen people were hospitalized with minor injuries, fire Inspector Rick Flores said.
A SigAlert was issued and traffic was backed up for miles for several hours. All lanes of the freeway were reopened around 1 p.m.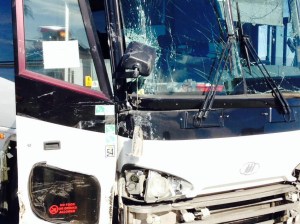 Following the crash, a second bus appeared to be dropping off uninjured passengers at multiple locations, including the Flamingo Inn in Rosemead, aerial video showed.
A woman was escorted from the bus to a Mercedes-Benz, the plates of which showed the vehicle was registered to Da Zhen Travel.
The bus had a similar appearance to the one that crashed and may have been part of the same tour company.
KTLA's Jennifer Thang and Anthony Kurzweil contributed to this article.
More video: