This is an archived article and the information in the article may be outdated. Please look at the time stamp on the story to see when it was last updated.
More than eight cars were damaged after a two-alarm fire broke out at a Disneyland parking lot Monday evening, officials confirmed.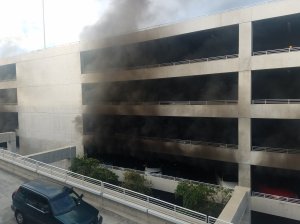 The blaze was in the Mickey & Friends structure, according to Sgt. Daron Wyatt of Anaheim Fire and Rescue. It was extinguished around 5:30 p.m., about an hour after flames were first reported, the Anaheim Police Department said on Twitter.
Responding firefighters found thick black smoke billowing from the structure and several vehicles engulfed in flames on the lot's second level, Wyatt said.
Gustavo Torres was visiting the park Monday and told KTLA the smoke was visible from across the park.
"I mean you could see it from anywhere in the park where you were at," he said.
The lot was immediately evacuated, with park-goers being unable to return to their vehicles until just before 7 p.m.
Eight cars suffered major damage, with four of those completely destroyed, officials said. Another one to three more vehicles reportedly incurred minor damage from radiant heat.
"The parking structure holds up to 10,000 cars, so they're parked very, very close together," Wyatt told KTLA. "So it doesn't take much. It was miraculous that we were able to contain it to just nine."
Park visitor Travis Knabe said his car was trapped inside the structure from around 4:30 p.m. through late into the night.
"We were right next to where the fire engine is and we've just been waiting to get to our car," Knabe told KTLA. "They said they didn't have any info on make or models yet or if or when we could get in."
Seven Disneyland employees were treated for signs of excessive smoke inhalation and four were transported to a nearby hospital, firefighters said.
Initial damage was estimated to be around $180,000, authorities said.
It was not immediately clear what led to the fire, but authorities did not suspect foul play.
KTLA's Nidia Becerra contributed to this article.
Update: 8 cars with major damage and few with minor damage. 7 minor smoke inhalation with 4 transported. Allowing people in now to get cars pic.twitter.com/BEDsntf08w

— Anaheim PD (@AnaheimPD) February 14, 2017
https://twitter.com/__Brayan7/status/831311806517817344
There's four cars on fire in the Disneyland parking structure pic.twitter.com/c96nL5K47g

— Aisha 🖤 (@aishaaagee) February 14, 2017
AFR on car fire with multiple vehicles at Mickey & Friends structure. No injuries. Structure evacuated. @AnaheimFire pic.twitter.com/tLSD8g1qgZ

— Anaheim PD (@AnaheimPD) February 14, 2017