This is an archived article and the information in the article may be outdated. Please look at the time stamp on the story to see when it was last updated.
Surveillance images were released Thursday of a man sought by police in their investigation into five vehicles that were set ablaze at a BMW dealership in Santa Monica.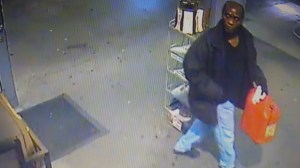 Officers responded to the dealership, which is located in the 1100 block of Santa Monica Boulevard, late Wednesday night after receiving a report that several cars were on fire, according to police.
Video from the scene showed flames rising several feet above the vehicles and then engulfing them as firefighters arrived. Multiple explosions could be heard.
The Fire Department was called to the scene at 10:40 p.m. to find three cars well involved, fire Chief Mike McElvaney said.
Witnesses said they saw the arsonist pour liquid onto the vehicles and light them ablaze with a Molotov cocktail-type device. The man, clad in a hoodie and large jacket, ran from the scene, witness Liza McMillan said.
"The fire was explosive ... really big flames. It started shooting, like, fireworks," said her daughter Haley McMillan. "It was really scary."
Four used vehicles were completely damaged and one was partially damaged, according to a news release issued by police Thursday afternoon. The total loss was estimated to be $250,000.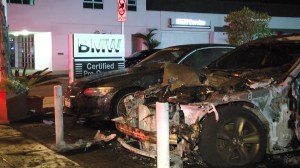 A man who matched the general suspect description given by a witness was taken into custody, Sgt. Rudy Camarena of the Santa Monica Police Department said. It was later determined the man had been misidentified; he was released, Camarena said.
Police released surveillance images from a nearby gas station of a man they described as a "possible suspect," according to Camarena.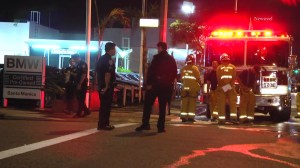 The man allegedly purchased $4 worth of gas from a station two blocks away from the dealership about 20 minutes before the fire was set, Camarena stated.
The red gas can the man was carrying allegedly matched the description of a gas can found at the dealership. Blurry surveillance video from the dealership showed a man pouring liquid from a red can onto the vehicles, police said.
Other small fires had also been set near the dealership earlier in the evening, but it was unclear if the fires were connected.
Anyone with information was urged to call police at 310-458-8491.
KTLA's Tony Kurzweil contributed to this article. 
More Video: