This is an archived article and the information in the article may be outdated. Please look at the time stamp on the story to see when it was last updated.
A school bus carrying 11 middle school students crashed in Anaheim Hills on Thursday afternoon and multiple injuries were reported, including three patients who were hospitalized in critical condition.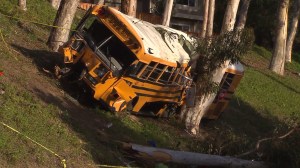 Witnesses said they saw the bus going downhill at a high rate of speed without braking. The bus went airborne and hit a few trees before coming to a stop against a tall eucalyptus just after 3:30 p.m., according to a witness.
The crash involved an Orange Unified School District bus, according to Sgt. Bob Dunn with the Anaheim Police Department.
The incident occurred near the Anaheim Hills Golf Course, which is located in the 6500 block of Nohl Ranch Canyon Road (map).
One student on the bus described what it was like when the driver went off the road.
"He started driving downhill then … we hit and … we went sideways," passenger Solymar Colling said.
She said their was chaos on the bus as students were being thrown around.
The eight-grader described hearing one of her classmates calling for help for another injured student.
"He was yelling, 'She's bleeding. She's bleeding. We need help,'" she told KTLA.
Three patients were critically injured — two students and the bus driver, Dunn said in an interview at the scene. Three other students were hospitalized with minor injuries, he said.
The six additional students on the bus were with family members and were able to seek medical attention on their own, Dunn said.
"There doesn't appear to be life-threatening injuries involved in this collision," Dunn said, adding that he could not comment specifically on the driver's condition.
The school district confirmed on its Facebook page that the bus was carrying 11 middle school students from an after-school activity at El Rancho Charter Middle School. Administrators were on the scene and parents were in the process of being notified.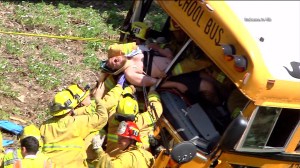 The driver — identified as Gerald Rupple — has worked full time for the district since October 2010, Orange Unified stated.
Two patients were taken to Western Medical Center, two to Kaiser Permanente Anaheim, one to Placentia-Linda Hospital and one to UCI Medical Center, according to Wendi Forrest of Western Medical.
The two students taken to Kaiser were treated and released earlier this evening, according to hospital spokesman Scott Kelly. The student taken to Placentia Linda Hospital was also treated and released, spokeswoman Maryanne Riley said.
Aerial video showed multiple ambulances on the scene, where a tree appeared to have been sheared off on a hillside. The vehicle was leaning against another tree.
Rupple, was extricated from the front of the bus and taken from the vehicle on a stretcher and then placed into an ambulance, aerial video showed.
It took 15 to 20 minutes to free the driver, Dunn said. The students had been able to free themselves from the vehicle, he said.
Rupple was taken to UC Irvine Medical Center.
His mother, Shawna, told KTLA in a text message that her son required stitches above both eyes and had a broken clavicle.
"Thanks for checking on my baby.  No matter how old they get they are always your babies," she texted.
Nohl Ranch Road was shut down in both directions from Stage Coach Road to Camino Vista, the Anaheim fire department stated on Twitter.
The California Highway Patrol would investigate, Dunn said.
KTLA's Nidia Becerra Tijerino, Feven Kiflegiorgis and Mary Beth McDade contributed to this report.