This is an archived article and the information in the article may be outdated. Please look at the time stamp on the story to see when it was last updated.
Four people have been arrested in connection with the fatal Hyde Park shooting of a 19-year-old man who was killed at a car wash after being confronted about gang affiliation and the color of his red shoes, Los Angeles police announced Tuesday.
Tavin Terrell Price was fatally shot in front of his mother in the 3300 block of West Florence Avenue about 11 a.m. May 29, when they were headed to the beach, police said.
Detectives provided the identities of suspects arrested in connection with the case at a 1 p.m. news conference at the 77th Street Division.
The suspected shooter, 27-year-old Kanasho Johns, was taken into custody at a home outside of Houston, Texas, on Tuesday morning, Los Angeles Police Department Detective Chris Barling said.
Two other men were arrested last week and were charged with murder on June 19, according to Barling. All three men are local gang members, Barling said.
A fourth person, a 27-year-old woman, was arrested during an initial investigation on suspicion of witness intimidation and being an accessory after the fact, the detective said. She was charged June 2, he said.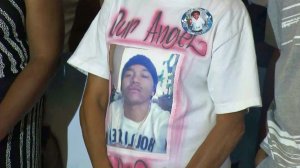 Photographs of the suspects were not released amid the ongoing investigation.
Price's mother, Jennifer Rivers, sobbed audibly as Barling announced details of the arrests. She said she goes to the cemetery to visit her son every morning.
"First of all, I want to thank God for answering my prayer for justice of my son," Rivers said. "Everything I hear is Tavin saying, 'Mommy, am I going to be all right? Mommy, I'm not going to die, am I?' That's all that I hear every day. I've got to live with that for the rest of my life. That's torture. You robbed me of my baby."
Rivers' supporters at the hearing wore red shoes.
"I'm trying to be strong up here, but inside I feel dead," Rivers said.
Barling said Price had gone to the Simms Car Wash with his mother and a family friend, and then walked to a nearby smoke shop. At the shop, a man confronted Price about his red shoes and asked about gang affiliation.
Price did not reply and instead walked away and returned to his mother after completing his purchase.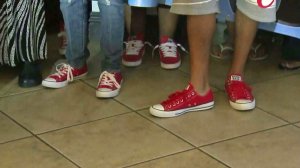 The man who had confronted Price followed him, along with another man who had been in the shop, Barling said. Around the same time, the shooter arrived, was joined by one or both of the men from the shop, and gunned Price down, according to the detective.
The three suspects arrested locally were identified by the Los Angeles County District Attorney's Office as: Kevin Deon Johnson, 24; Dwight Kevin Smith, 30; and Antheyst Jarrett, 27.
County inmate records indicated Johnson was arrested June 17 and was being held on $2.09 million bail. His arraignment on a murder charge was postponed to July 6, the DA's office stated.
Smith was arrested June 18 and was being held on about $2.07 million bail, records showed. He pleaded not guilty to murder on June 22 and was due to return to court on July 6.
The DA's office would not comment on the case against Kanasho Johns, the alleged shooter.
A spokeswoman for the FBI's Los Angeles office said Kanasho Shadrick Johns was arrested by an FBI Task Force in Houston, and was in jail in Montgomery County, Texas. Johns was slated to transferred to LAPD custody, the FBI spokeswoman said.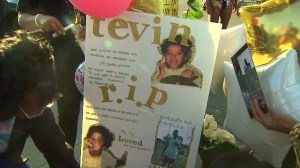 Montgomery County inmate records showed Johns was taken into custody in city of Conroe has an alias of "S-Bone."
Jarrett was arrested on the afternoon of the killing and was being held on $500,000 bail. Following a preliminary hearing, she was scheduled to be arraigned July 2 on one count of dissuading a witness from testifying and one count of accessory after the fact, according to the DA's office.
Barling described the woman as an "associated gang member." Gang enhancement charges were filed against her, Barling said.
Barling said Price was not a gang member but was simply wearing red shoes on the day of the shooting.
He said the type of confrontation — of an individual unknown to gang members — is common in gang cases.
"We have tragedy often in our community, but there are very seldom times where we see senseless tragedies like the one involved in this particular homicide investigation, where a young man is killed simply because of the color of his shoes," said William Scott, LAPD deputy chief of operations for South Bureau. "We thought those days were past us, but as we saw in this case, we still have a lot of work to do in terms of making our community safer."
Rivers described Price as "mentally challenged." He died at California Hospital after the shooting.
At a vigil for the victim four days after the shooting, friends and relatives gave his name as both "Tevin" and "Tavin."
Councilman Bernard Parks last week introduced at motion for a $50,000 reward for information in the case, and Rivers went to a City Council meeting in support of the reward.
The motion was scheduled for a vote Wednesday, according to council records. Parks said at Tuesday's news conference that he planned to go forward with a vote next Tuesday.
Barling said he hoped that the reward would bring out more information in the case.
More Video: